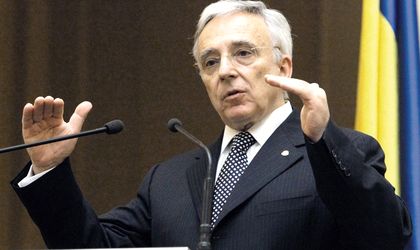 Banks from Romania need to regain their credibility in front of  their customers, after a period of several years when it dropped. In addition, lender should need to get closer to clients so as to provide the right financial products, said on Monday the governor of Romanian National Bank (BNR), Mugur Isarescu, during the Financial Market Forum, organized by the Romanian Association of Banks (ARB).
Isarescu said that all the conditions for this trust to be regained exists, taking into account that the banking system is very solid and has access to liquidity, according to News.ro.
He underlined that if a bank has too many litigations with clients, it has to find negotiations methods and solve these issues inside the bank, taking into account that banks need to get closer to their clients to raise the loans' level.
"The prudence through a step back regarding the loans offer doesn't work anymore. You need to get closer to clients, to cultivate the clients. These are part of understanding of needs and negotiation," said Isarescu.
He said that the banking system didn't need public funds to overcome the financial crisis and now it's in a good shape, with access to liquidity and a low level of the non-performing loans, of around 10 percent.