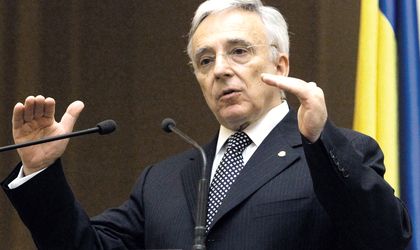 The governor of the National Bank Romania (BNR), Mugur Isarescu, unveiled in a press conference how much he makes as head of the central bank.
" I can tell you that the wage of the governor amounts to EUR 9,495 net each month, plus the management indemnity of EUR 4,106. In total, the monthly income amounts to 13,691 monthly," said Isarescu, according to HotNews.ro. He added that he hasn't applied for a pension yet, although he is eligible for this income.
Isarescu added that during the crisis period 2009-2010, the wages of the executive team at BNR did not grow and that in 2010, the wages of all BNR staff, including the management, fell by 25 percent.  The central bank head added that some of the employees got bonuses for "remarkable performances", but the executive team did not get any financial perks.
The head of the BNR reacted less that one month after former banker and government official Lucian Isar wrote on his blog that Isarescu's monthly income amounts to EUR 40,000. Isar, who is one of the toughest critics of Isarescu, claimed that the governor was also receiving a pension.
The board of administrators at BNR voted to publish the minutes of monetary policy meetings and their own wages, citing the transparency trend that has been seen in other central banks, according to Isarescu.
Ovidiu Posirca