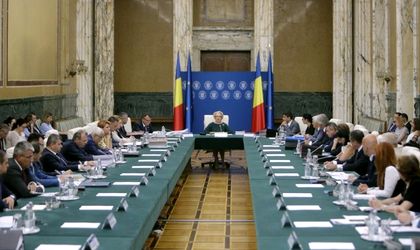 Mihai Fifor announced on Monday that he had resigned as Defense Minister, claiming he wants to strengthen the PSD team to prepare for the next elections, according to Digi24. The decision comes shortly before the meeting of the PSD Executive Committee discussing the government reshuffle.
Last minute negotiations are taking place before de meeting and, according to sources, former minister Illan Laufer will be proposed for the Ministry of Development to replace Paul Stanescu. Also, MP Mircea Draghici will be proposed to replace Lucian Sova as the Transport minister.
Olguta Vasilescu will continue to head the Labor Ministry, while Tudorel Toader is expected to leave the Justice Ministry.
Fifor, who claimed that he would focus on strengthening the Social Democrats' team, will be replaced by Dorel Caprar, president of the Defense Commission from the Chamber of Deputies.
"Thanks for the support – I tried to have a good mandate and I hope I did not disappoint. I did an analysis and I thought I should go help the party prepare for the next two years. I asked Prime Minister Dancila and President Dragnea to agree to take my mandate," said Fifor.
Dragnea appeared with Prime Minister Viorica Dăncila shortly after Fifor's announcement. He declined to make any statements on the matter as he was entering the CEx meeting.
PSD's CEx meets at the Parliament at 11.00 am after an informal meeting held on Sunday at the PSD headquarters.
UPDATE
The PSD National Executive Committee on Monday voted in Parliament to change ministers from five portfolios.
Thus, the CExN voted for the appointment of the following Ministers:
Work: deputy Marius Budai instead of Lia Olguta Vasilescu,
Economy: Senator Niculae Badalau replace of Danut Andrusca,
Transport: deputy Lia Olguta Vasilescu instead of Lucian Sova,
Defense: Senator Gabriel Les, former Minister of Defense in the Government of Grindeanu, replacing the resignated Mihai Fifor,
Development: Ilan Laufer, who will became vice prime minister will replace Paul Stanescu,
Culture: Senator Daniel Breaz replacing George Ivaşcu,
IT&C: Alexandru Petrescu to replace Bogdan Cojocaru.