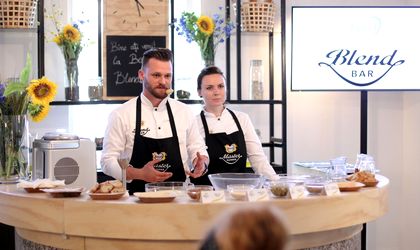 The kitchen is a space of creativity and innovation, therefore it has no limits of combinations when you have quality ingredients and a little bit of culinary skill, something proved also in the launch of the Becel Blend Bar in Romania, a concept that has already been implemented before with success in The Netherlands.
"Our Chef's artistry in developing new culinary sensations combined in perfect harmony with the experience of the Golin team in communication the benefits of the Becel's products and the innovation brought by the Becel Blend Bar concept on the Romanian market," said Tatiana Turcan, marketing representative at Unilever.
Golin agency organized a special launch event of the new Becel Blend Bar concept in which Chef Dorin Mandache combined, for journalists and bloggers, the trilogy of oils from the Becel recipe, in order to create unique sandwichable mixes, in harmony from the nutritional and taste point of view.
"The Becel Blend Bar launch on the Romanian market helped us talk in a very simple and attractive manner about a subject still unknown to many consumers – how is the margarine prepared," added Roxana Diba, manager at Golin.
The new concept was shared with the consumers also through some retail activations organized in Mega Image Concept Store Baneasa, during which there were live demonstrations in combining the oils, made by Chef Dorin Mandache, as well as tastings of unique sandwich mixes. The participants' reactions can be seen on the Becel Romania Facebook page.
The Becel/Unilever team for this project comprised: Anca Severin (BB Manager), Tatiana Țurcan (BB Assistant), Dana Dobrescu (Communications Manager), Cristi Iozu (R&D Technical Manager), Dana Tufeanu (R&D Local Deploy Foods) and Dana Dogantekin (R&D Country Chef).
Golin team: Roxana Diba (Manager), Livia Voicu (Senior Media Associate), Bianca Cenusescu (Media Associate), Raluca Duta (Chief of the Bridge) and Gabriela Bumb (Junior Digital Associate).
Romanita Oprea