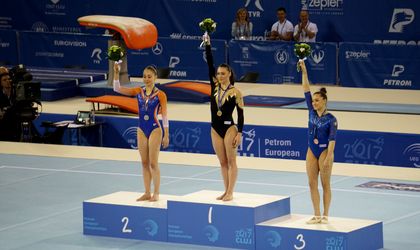 Sunday was a great day for the Romanian gymnastics team. Catalina Ponor, won the gold medal in Beam, with a score of 14,566 points, after a great exercise, with no hesitations at all. Therefore, at 29 years old, Ponor wins her fifth gold European medal in Beam, setting a new record.
The second Romanian in the final, Larisa Iordache who qualified with the biggest score, won the bronze medal, with a total of 13,966 points. The silver medal went to Eythora Thorsdottir from the Netherlands, with 14,066 points.
As of now, Catalin Ponor holds in her portfolio 13 European medals: eight golds, two silvers and three bronzes. Larisa Iordache is right behind her, with 12 European medals: three golds, four silvers and five bronzes.
After winning the gold in the Floor finals, Marian Dragulescu succeeded in winning the silver medal in the Vault event, with a score of 14,733, being beaten only by the Russian Artur Dalaloyan with a final score of 14,933. The bronze medal went to Oleg Verniaiev from Ukraine with 14,649, the All-Around European Champion, here, at Cluj-Napoca. He took his revenge by winning the gold medal in the Parallel Bars final, with a score of 15,466, ahead of the German Lukas Dauser (15,366) and the Russian Nikita Nagornyy (15,266).
Unfortunately for Oleg Verniaiev though, he fell two times from the apparatus in the High Bar finals, ending only on the last place. The final was dominated by the Swiss' atheltes that took home the gold and the silver medals. The gold went to Pablo Braegger with a score of 14,933 points, while the Silver went to Oliver Hegi, with a score of 14,500 points. The bronze medal was earned by David Belyavskiy, with a score of 14,366.
The women's most awaited final, the Floor event, went to the Russian Angelina Melnikova, with a score of 14,100 points, followed by Ellie Downie (Great Britain) – the European All-Around Champion here in Cluj-Napoca, with 14,066, and by Eythora Thorsdottir (Netherlands) with 13,700 points.
Cluj-Napoca hosted during April 19-23 the 60th European Artistic Gymnastics Championship.
 Romanita Oprea