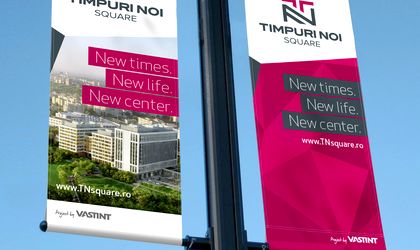 Go Studio created the brand positioning and identity for Vastint Romania, the real estate division of the Inter IKEA group, for its project in the Timpuri Noi area.
IKEA's investments include office spaces, residential spaces and lesuire facilities.
"We are talking about a very known district, with a name with a positive connotation in the people's perception no matter the period of time we are in. Therefore, we thought that we should build exactly on this insight. One of the strategic proposals that we went to the client with was to use the name of the location as an alternative to a new, totally different name. This is how Timpuri Noi Square was born," explained Bogdan Stanciu, head of design at GO Studio, which is part of GMP Group.
The most important differentiator for this project is its central location, a thing that reflects both in the visual identity created by the GO Studio team, as the "New Times. New Life. New Center" headline that speaks about the transformation of this area.
The Timpuri Noi Square brand has three extentions dedicated to the different area types: Timpuri Noi Offices (for the office area), Timpuri Noi Play (for the retail area) and Timpuri Noi Home (for the residential projects).
Romanita Oprea