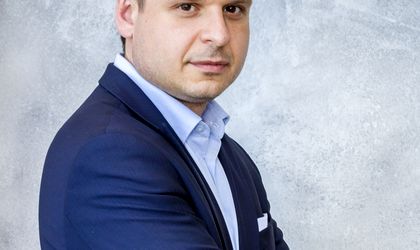 Globalworth Real Estate Investments Ltd,  one of the most important players in the office real estate market in Romania controlled by Ioannis Papalekas, announces the acquisition of Building "C" of the Green Court Bucharest campus developed by the Swedish group Skanska, one of the world's leading project development and construction groups. The gross transaction value is approximately EUR 38 million and the acquisition is expected to close in Q3 2017. Once this deal is finalized, the fund will fully own the office complex in Bucharest.
Dimitris Raptis (photo), deputy chief executive officer and chief investment officer of Globalworth, said: " This marks the third transaction between Globalworth and the Swedish developer Skanska and, following its completion, Globalworth will own the entire Green Court Bucharest complex. Together with the other properties that we own in this area, the Green Court Bucharest Campus further strengthens our commanding position in the north Central Business District of Bucharest, the city's largest and most sought-after office hub. This transaction marks another very important step in attaining our strategic objectives and consolidating our portfolio with modern, high-quality and energy efficient buildings".
Located to the north of Bucharest in the Barbu Vacarescu – Floreasca area, the Green Court Bucharest campus is the first project completed by Skanska in Romania. The campus comprises three class "A" office buildings with a total rentable area of 54,300 sqm.
"The divestment of the third building of Green Court Bucharest represents the successful conclusion of our first office development in Romania. The vision that we had for our project was to provide an innovative, productive and human-centric workplace, along with contributing to the community and to the placemaking of the area that hosts the project. The relationships that we built with our partners thoroughly confirmed the realization of these aims. We wish to thank both our tenants and Globalworth Real Estate Investments Ltd for their trust and cooperation", said Marcin Lapinski, managing director Skanska Property Romania & Hungary.
The Green Court Bucharest project was developed using eco-friendly technologies and sustainable solutions used to minimize the building's environmental footprint and significantly reduce its operating costs.
Globalworth is the owner of buildings "A" and "B" of the campus, which it acquired in June and December 2015 respectively.
Law firm PeliFipil advised Skanska on the sale of the office building.