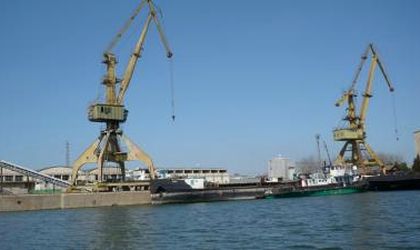 The main gas pipeline of the Giurgiu-Russe interconnection project was placed under the Danube river, Transgaz informed in a press release. Works were completed on Sunday, September 25.
On Saturday, Minister of Economy and Deputy PM Costin Borc made a work visit at the building site of the interconnection project between Romania and Bulgaria and met with representatives of companies Transgaz, Inspet and Habau. The Romanian minister Together with Hamza Karimov, General Manager of Socar Petroleum attended the start of drilling works.
According to Transgaz representatives, from the gas metering station in Giurgiu, gas is transported by DN 500 mm pipelines measuring 5.1 km up to the taps group in Comasca (Romania). Between Comasca and Marten (Bulgaria) the length of the under crossing is 2.1 km.
The interconnection project was funded with EU funds amounting to EUR 23 million, with EUR 10 distributed for works on the Romanian side and the remaining EUR 13 million attributed to the Bulgarian side.
In the first year, once the pipeline will work at full capacity, based on agreements currently in place, Transgaz will ensure at the border a flow of 0.5 billion at a pressure of 29 bars.
The Romania-Bulgaria interconnection project is the only project that can provide transports of natural gas via the southern gas route Azerbaijan-Turkey-Greece towards Austria, via the sector on the Romanian territory.
As it stands, the interconnection project is the biggest of its kind not only in Romania, but also in Europe. The gas pipeline connecting Bulgaria to Austria, via Romania and Hungary, (BRUA- PCI 7.15) holds a major regional importance, as it will integrate the natural gas sources in the South Corridor with the Central and Western Europe. The deadline for its completion was set for 31 December 2016.
The pipeline has a total length of 528 km, with a diameter of 32" (DN 800) and the pressure of 63 bar. Transgaz is the technical operator of the natural gas National Transport System and is ensuring its functioning at the best parameters.
Georgeta Gheorghe