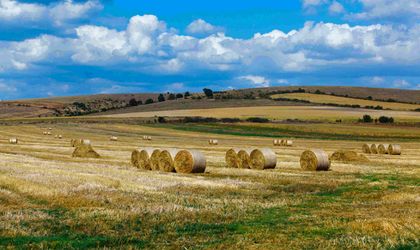 Despite accelerating growth in recent years, the Romanian market of certified organic fruit and vegetables is still emerging, shaped by a range of factors.
Georgeta Gheorghe
Romania exports most products grown by its organic agriculture sector abroad, as raw materials. The domestic market, meanwhile, is largely unstructured, shaped by irregular supply and demand that cannot easily be quantified. The relationship between the two is regulated by supermarkets, which have taken on the role of mediator and are becoming a significant factor on the market. Nevertheless, Romania's organic agriculture sector has tremendous potential for growth.
After Romania joined the EU, its organic agriculture sector experienced a period of sustained expansion, which has picked up in the past few years. Between 2010 and 2014 alone, the surface used for organic agriculture increased by 60 percent, from 182,000 to around 290,000 hectares. Concurrently, the number of operators in the organic agriculture sector rose, from 3,155 in 2010 to 26,736 operators involved in the production, processing and sale of ecological products in 2012. Out of them, 26,390 are producers. In particular, the number of agents involved in processing increased from 48 in 2007 to 120 in 2014. Nevertheless, the share of local land cultivated with organic grains, vegetables and vine is still insignificant, standing at less than 1 percent of the total land used for agriculture.
According to the Ministry of Agriculture and Rural Development (MDRAP), 80 percent of Romania's organic products are exported to other European markets as raw materials. Countries like Germany, Austria, Italy, the Netherlands, Switzerland and Denmark, the main suppliers of processed organic foods in the EU, receive 80 percent of Romania's production of grain, forest fruit, oil and nuts. At the same time, Romania imports a significant share of organic fruit and vegetables to supply the local market. Overall, in 2011 Romania imported organic products to the tune of EUR 75 million.
On the back of an increase in interest in organic food, and in Romanian organic products, supermarkets have taken on the double task of building relationships with local producers and boosting awareness for the sector. "The Romanian certified organic fruit and vegetables market is very young," Andreea Mihai, Carrefour marketing and communication director, told BR. "Romanian customers do not yet have education in this field. For them, organic fruit and vegetables are still an area of exploration. But the trend is that they are more and more interested in local organic products."
According to the 2015 Retailer Scorecard, a survey conducted every year by WWF Romania, only three local supermarkets were selling Romanian organic fruit and vegetables. Recently, Lidl representatives told BR the chain had established partnerships with over 100 Romanian providers, while in the near future, local products will reach Mega Image stores, company representatives announced.
Join the discussions about Romania's economic outlook and strategy for the future at the Foreign Investors Summit 2016 – Where Romania means business – November 1-3, Bucharest.
However, the supply of Romanian organic fruit and vegetables is not a steady one. "The percentage is variable and highly influenced by seasons," Mihai noted. In addition, collaboration between producers and retailers is still in the nascent stages. "It is very early to have a mapping of the regions where the producers are coming from," she added. In addition, there is a lot of room for improvement when it comes to the range of products available. "Unfortunately for organic products not many are certified," Mega Image representatives told BR.
To this, retailers respond by sourcing their products from other EU countries, such as Greece, Spain, Italy and the Netherlands. On the long term, they plan to develop partnerships with producers and position themselves as a mediating factor on the market. Their efforts range from initiatives aimed at encouraging producers to convert their fields to developing partnerships with academic institutions for the benefit of producers. For this purpose, Lidl has developed a program with the University of Agronomic Sciences and Veterinary Medicine of Bucharest. "We invite Romanian producers to become our partners and, within the program, we offer our business expertise to local farmers so that they can further improve their businesses," Lidl representatives said.
"Our suppliers are planning their crops in accordance with our estimates, and we try to diversify production every year, while taking into account our customers and their needs," Mega Image representatives told BR. "We are currently in talks with producers that are willing to convert their fields," said Mihai, "[so that] after three years we will be able to replace imported products."