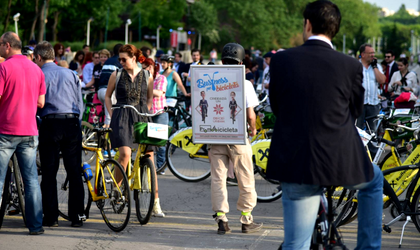 The Junior Chamber International (JCI) Bucharest announced the spring edition of the Business on bike 2016 event, promoting the use of the bicycle as a means of transportation to the office or meetings.
Organizers are expecting hundreds of bike riders to gather for the event set to start on May 24 at 18:30, from the Tineretului Park, under the slogan Get a suit & Ride a bike. The group will leave at 19:30 from Tineretului and the itinerary will include main roads of the capital city: Parc Tineretului Park – Bd. Dimitrie Cantemir – Bd. Unirii – Bd Libertatii – Bd. Natiunile Unite – Str B. P. Hasdeu – Str. Vasile Parvan – Str. Berzei – Str. Buzesti – Piata Victoriei – Bd. Aviatorilor – Charles de Gaulle Square – Arcul de Triumf Square – Tete a Tete terrace, Herastrau Park.
"It is a project close to our hearts, developed by JCI Bucharest with teams of volunteers since 2010. We want to promote cycling as an alternative to other modes of transport, both for travel for business purposes and personal purposes. More than 3,000 cyclists have joined us since we started organizing Business on bike, cycling with us on Bucharest's main roads during rush hour," said Cristi Tudorescu, president of JCI Bucharest.
Junior Chamber International (JCI) is an NGO numbering over 20,000 members across 10 countries. JCI Bucharest runs projects connected to four main areas of interest: business (JCI Tineri Antreprenori and Business Target Club), personal development (JCI Monthly Training), international relations (international conferences) and social responsibility (Business on bike).
Natalia Martian