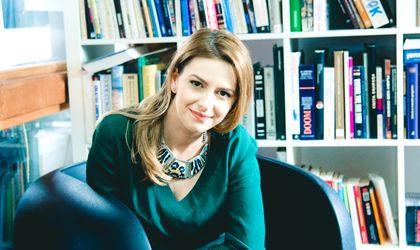 Managing director of the user experience and digital consultancy agency Grapefruit, Georgiana Dragomir was enrolled in the famous MIT Global Entrepreneurship Bootcamp. She was accepted from 800 applicants and upon her return she offered BR an exclusive interview about her experience and what it brought new into her professional life.
Romanita Oprea
How did you decide to do this Bootcamp? Was it also due to Marius Ursache's experience at MIT?
At the beginning of 2016, when I became managing director of Grapefruit, I set off for evolution and doing things differently. I decided that we would only work with new technologies, focus on innovation and develop our own product. Around March I started thinking about applying for MIT Global Entrepreneurship Bootcamp, a program designed to teach you how to start a company in one week, with a high chance of success. Besides, Marius (Marius Ursache, founder of Grapefruit – e.n) had told me about previous editions and had me convinced it was a life-changing experience.
I finished the application in June. Honestly, I did not expect to pass on to the next step. There are hundreds of applications on each edition and only a few of them are selected. However, only a few days after submitting my online application, I was scheduled for a Skype interview. Two weeks later I received the email saying I was accepted at the MIT Bootcamp Entrepreneurship.
I could not believe it! I eventually found out there were almost 800 applicants and only 71 of them were selected. I was one of the 71.
What were your wishes and expectations prior to going there?
My main expectation was to learn how to develop a digital product. During the Bootcamp, but especially afterwards, I've understood that I've learnt that much that it would have been impossible to set myself other expectations before the Bootcamp. Besides the gained knowledge, I've learnt how to communicate with strong and culturally different people, I've discovered certain abilities and even flaws on my personal sight, I've changed my perception towards the future I wish for my children, I've changed the clients', projects and company's candidates' manner of analysis. It was both a professional and a personal discovery.
What were the main challenges, in your opinion?
I would say that the main challenges are: choosing the right team to work with during the Bootcamp, defining the company/product problem, the financial factor and the Demo Day presentation in front of more than 100 people (investors, teachers, mentors, colleagues).
As a mindset, how has the experience changed you?
It's hard to describe in just some words what this program implies and how many changes it brings in the participant's life, but if someone is interested in finding out more details from my MIT Bootcamp experience I am more than happy to share with him / them from this amazing experience.
There are five things that I would say changed at me after this experience:
Active listening: although I knew the theory very well, only at Bootcamp I learnt to really pay attention at the people around me, listen to them and draw conclusions.

I can survive for a week and at the same time be productive with only 12 hours of sleep overall (2 hours a night).

I can work in a team where the final decision is not mine and I don't take the control

I know how to implement those 24 steps form the Discipline Entrepreneurship for the Grapefruit product, but also for our clients.

The smallest problem during the Bootcamp was the sleep deprivation, even though that was my biggest fear.
What are the main things you changed while going back to Grapefruit?
There are two "measurable" changes I've done since coming back, changes that represented a big surprise both for me and my team. I refused to take on, without blinking, a 40.000 EUR project, because it wasn't on Grapefruit's strategy and it would have slowed down the development of the digital product.
The second change was the job description for the digital strategist position. Even we had it developed since last year, I modified it almost completely. As an example, I introduced two new paragraphs at the beginning, that are meant to rise the candidate's interest, but most of all to make him understand how interesting and challenging is the job: Why this job is meaningful for you and what you will gain with this new opportunity.
Do you see more changes coming your way?
I am convinced that permanent changes will come, but I will be very careful not to fall into the trap of the other extreme and try to do things here totally differently, in a short period of time, because that would be a very risky move. I know what I want to achieve, where to get, what I want Grapefruit to be in the years to come, but I will take it one step at a time, as a natural and assumed evolution, by all of the people surrounding me, not only by me.
What would you say to someone wanting to have the same experience as you? (pieces of advice you would give)
I have so many things to tell that I would rather just take them to a coffee and reminisce there. I've almost convinced my godparents to enroll in the next edition. But, in the case that I will not have the chance to give them more details I can tell them exactly what I found out and what made me decide myself.  In just one phrase: "It's a life-changing experience".
If you want to totally reset yourself from a professional and personal point of view, you go at MIT Global Entrepreneurship Bootcamp.
More about Georgiana Dragomir
During her 8 years in Grapefruit, Georgiana has defined & finalized projects as well as coordinated a multidisciplinary team. This fact has clearly been shown to such clients as Nestle, Renault, Dacia, OTP Bank, Phillip Morris and others in a numerous series of developed and implemented projects. Georgiana's experience as an account manager in one of the biggest advertising agencies (McCann Erickson), where she worked for Coca-Cola and L'Oreal has helped the Grapefruit team improve the collaboration with big clients with complex necessities.
Georgiana has a Bachelor's degree in Management from the Faculty of Economics and Business Administration from Iasi.