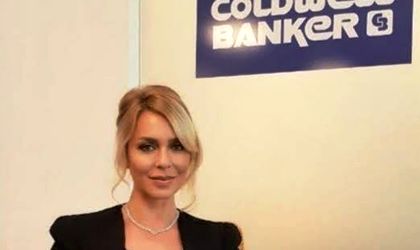 There were voices who claimed that the residential market is in the first stages of turmoil. Sales slightly dropped by 2 percent compared to 2017, and the BNR decided to hinder access to credits, while the interest went up because of the ROBOR. Still, the residential sector is moving forward, at least in its higher segments. At least that is the way Georgia Cailean, the new CEO of Coldwell Banker, sees it.
"The key factor influencing the residential market is directly related to the consumer indebtedness rate resulting from the BNR's increased interest rates and decisions. For the end of this year, the BNR revised the inflation rate to 3.5 percent from 3.6 percent for 2018 and to 2.7 percent from 3 percent for 2019. We expect an economically stable year-end and start of the year, without major movements, resulting in a favorable climate for residential and office development," Georgia Cailean told BR.
The number of transactions decreased by 2 percent in the first eight months of the year compared to the same period of the previous year, according to data from the National Agency for Cadastre and Real Estate Advertising (ANCPI).
"I think that this involution is mainly due to the slower absorption rate of Prima Casa Funds compared to 2017. On the middle-high segment, for example, there are many projects where buyers purchase homes from the construction phase using their own funds," continued Cailean.
A stabilization of house prices
The CEO of Coldwell Banker Romania thinks that we are looking at a stabilization of house prices, while the competition between developers has grown.
"Yes, house prices have shown signs of stabilization in 2018. The residential market has matured, the offer has diversified significantly and competition between developers has grown. Thus, it has become necessary to correctly design a project and the sales and pricing strategy, as well as the collaboration with a specialized consultant in the absence of expertise. All this led to a price stabilization. At the same time, an annual evolution or involution within a few percentage points can be considered insignificant and a sign of maturity in a market," Georgia Cailean concludes.
Coldwell Banker is one of the largest real estate consultants active on the local market, recording a cumulative turnover of EUR 5.3 million in 2017, and is the consultant and exclusive agent of over 15 residential projects, totalling over 10,000 planned homes.
The valuation division of Coldwell Banker Romania valued 2017 real estate assets worth approximately EUR 2 billion while the property management division manages properties with a cumulative surface area of ​​approximately 150,000 square meters.