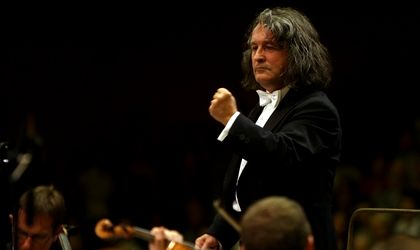 Each September brings to Bucharest the magic of national composer George Enescu, this year through the contest for young musicians setting out on their path to greatness. Some 174 were chosen to participate in this year's George Enescu International Competition (biennial since 2014), the only Romanian classical music competition with international recognition, which will be held in the Athenaeum in Bucharest from September 3-25. BR went behind the scenes of the competition to talk to some of its glittering alumni about its meaning.
By Oana Vasiliu
Conductor Horia Andreescu, founder of the Virtuosi Chamber Orchestra of Bucharest, associate professor of the National University of Music Bucharest, chief conductor of the George Enescu Philharmonic in Bucharest
What does the competition mean to you?
The fact that Romanian officials have held the George Enescu International Competition since 1958 gives me a complex of emotions, from surprise to delight, especially knowing that huge musical personalities have participated. In my capacity as a conductor, and especially knowing that Enescu was an excellent conductor who led orchestras in Paris, New York and Philadelphia, I think it would be in the spirit of this great musician and also service Romanian culture to introduce a session dedicated to conducting at this contest.
What does it mean to a young musician?
Each artist – in all fields of art – wants to be known for his/her achievements. In the musical world, the best way is to participate and succeed in a prestigious international competition. This is how a young musician's participation in this competition should be seen. As an example of what success has meant in this contest, after the first edition in 1958, the brilliant violinist Stefan Ruha started a successful career with many worldwide concerts. Something similar happened to Elisabeth Leonskaja, Ileana Cotrubas and Radu Lupu.
Are the format, organization and promotion what Enescu would have wanted?
George Enescu understood from the beginning the importance of musical competitions. The proof is that in 1913, he initiated the National Composition Contest, which he also supported financially until 1946 when he left Romania. If I were to comment on the format, organization and promotion, I believe that Enescu could only enjoy it, because this competition celebrates not only the violinist, pianist and teacher George Enescu, but also the composer George Enescu.
Photo courtesy of Eugen Oprina