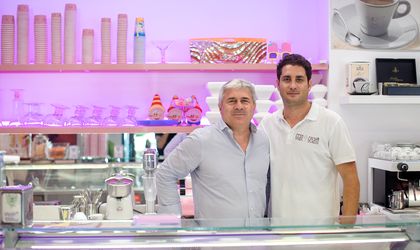 The Gelatery Gran Gelato has opened a new store in Bucharest on Calea Floreasca, following the opening of the first one from Bucharest in 2013, that reached 500-600 customers per day and more than 1,000 during the weekend.
 Gelatery Gran Gelato was founded by Gianfranco Toniolo in 1992 in the Venice region, aiming to make a product from natural ingredients.
After the success from Italy, Toniolo and his son Alessandro decided to open in 2013 a gelatery also in Bucharest based on the Italian recipe.
"Practically in the production loft from Bucharest we experiment daily new ranges of gelatto because we really believe that we have a gelatto culture. Moreover, the customers are the ones that inspire us because many times they ask about the fragrances discovered in their holidays in Italy and that they want to find also close to their homes. This is why a loyal network of customers was created, as they come for the authenticity of the fragrance, " says Alessandro Toniolo.
Currently, the gelatery menu comprises 40 ranges of gelatto, different every day.
Georgiana Bendre