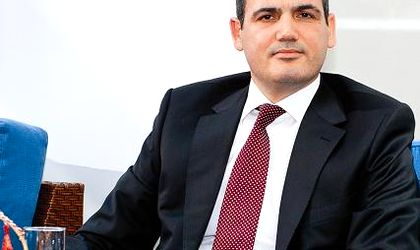 Turkey's second largest lender plans to become one of the top ten local banks. Introducing the SMS money transfer service and expanding its Romanian network are high on the bank's to-do list.
Corina Dumitrescu
In Turkey, the bank currently holds over EUR 66 billion in assets, compared to a mere EUR 1.5 billion in Romania. However, Romania was picked as the first country for the bank's expansion abroad, edging out its main competitor, Ukraine. "Romania was chosen on account of its potential for development, size (as the country is second after Turkey in the Balkan region and second after Poland in CEE), legislation, proximity and young population (with an average age of 38)," said Murat Atay (in picture), general manager of Garanti Bank Romania, a position he has occupied since January 2009. Prior to 2009, Atay held several positions within the group in Turkey.
Moreover, Atay added, the Romanian subsidiary is the only one involved in all aspects of the business – retail, SMEs and corporate – while operations in Russia and the Netherlands focus on the corporate sector. "This is one of the main reasons why we receive constant support from our mother bank," Atay added.
Loans, a challenge for the local market
While officials named reaching the top ten banks as their goal, unless the lender reaches profitability, an increase in market share is irrelevant. The bank is aiming to increase its loans by 30 percent in 2011, develop its level of assets by 20 percent and increase deposits by 25 percent. Moreover, it hopes to grow its credit card portfolio by over 50 percent, taking it beyond 115,000 credit cards.
Atay noted that Romania has one of the lowest rates of consumer confidence regarding loans in Europe, a consequence of the economic crisis, which strongly affected Romanians and encouraged them to spend less.
In Turkey, credit card ownership is widespread, and the sector is expected to grow by up to 25-27 percent this year. In 2010, the value of total loans in Turkey was an estimated EUR 220 billion. However, Turkey's banking population is six times bigger than Romania's.
Locally, the total value of loans reached EUR 786 million in 2010, 45 percent above the 2009 value.
SMS banking among group's priorities in Romania
The transfer of money via SMS is quite a common service for Garanti Bank in Turkey. However, in Romania it does not exist. Local infrastructure and legislation seem to be the impediments, although the bank's representatives did not offer more details on this matter.
"Currently, money transfer via SMS is only available in Turkey, but we want to bring it to Romania as fast as possible. It's very easy for us to do this, we can do it in just a few weeks; but in Romania, it all comes down to infrastructure," said Burak Yildiran, deputy general manager at Garanti Bank Romania. He added that the number of such transactions will grow rapidly in the coming four-five years.
Through this service, money can be sent by a Garanti Bank card to someone who does not need to be a Garanti customer or even a card holder. A PIN is supplied to the recipient after the sender has made the transfer. The recipient then uses the code to withdraw money from a Garanti ATM, without using a card, by entering the telephone number of the person who sent the money, the amount sent (which can be learned from the sender) and the PIN that appears on the SMS, explained Ilgaz Kaya, central marketing director. A specialized secure application is used for this transfer.
Target: one hundred branches
Locally, the bank aims to expand its current 75-branch network to 100 in the future, which it considers sufficient to cover the "bankable" Romanian population. New units will soon be opened in Bucharest's Lipscani area as well as in Ploiesti.
With a local customer base of 450,000, Garanti Bank registered a 70 percent increase in assets in 2010, compared to 2009, reaching slightly over EUR 1.5 billion. The total value of loans reached EUR 786 million in 2010, 45 percent above the 2009 value.