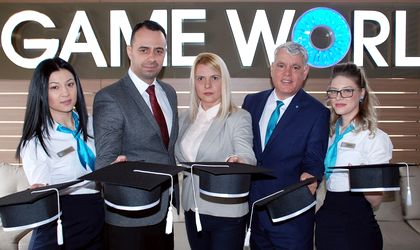 Starting this academic year, Game World Romania will offer scholarships for Psychology students at all degree levels: Bachelor's, Master's and PhD.
This will be one of Game World Romania's most important CSR actions this year, targeting Psychology students who want to specialise in studying, preventing and treating addiction.
Game World Scholarships will represent the first time a company in the gambling industry will be directly involved in a CSR project focused on supporting education.
"With a 20-year history in Romania, Game World is one of the highly appreciated companies in our country's gambling industry. Throughout the years, the company's reputation has been built on the care for all the people involved – clients, employees, partners, authorities, etc. Besides the informative campaigns we permanently carry out, we're always trying to come up with new actions, and our new scholarship programme for Psychology students is an example," said Attila Otto Torok, the manager of Game World Bucharest Mall Vitan.
"Our initiative has been well received in the academic world, so we are getting ready to select the first recipients of the Game World Scholarships out of those who will begin studying at the Psychology schools this year. We will also select Master's and PhD students among those who will choose to specialise in the study of addiction," said Andrei Frimescu, Marketing and Communication Director at Game World Romania.
Game world is a representative brand on the entertainment centres market, with a focus on organising and managing electronic game rooms. They are active in Bucharest and three other cities in Romania: Constanta, Brasov and Alba Iulia.