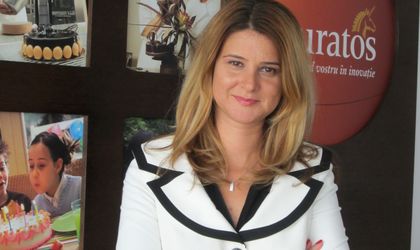 The Belgian group Puratos, one of the leading players in ingredients and solutions for bakers, patissiers and chocolatiers, has appointed Gabriela Beres to develop the group's business in more than 15 markets, as newly appointed regional director  Eastern Europe.
As of March 2018, Beres (42 years old), will take over the responsibility of the Puratos operations in  the Hungary, Moldova, Ukraine, Serbia, Croatia, Slovenia, and Bosnia- Herzegovina, where Puratos has subsidiaries,  and Albania, Kosovo, Georgia, Armenia, Turkmenistan, Tadjikistan and  Uzbekistan, where Puratos works via a network of local distributors. She will continue to  assume the general manager role for the Romanian subsidiary, which she has successfully held for the last 5 years.
In her 13 years with Puratos she has also held positions such as operations manager and human resources manager.
"I start this new role with the energy to build on the local experience and success, whilst keeping my perspective open to the growth and development opportunities that this region has to offer. I believe there is a lot of passion to improve and challenge ourselves in order to better serve our customers, and this is what differentiates us as a company and enables us to further grow organically with them," said Beres.
Since her taking over of  the general manager role, the turnover & profitability of the Romanian business has grown well year on year, amongst others, thanks to  the investments in a second Innovation centre opened in Cluj Napoca in 2016, refurbishment and extension of the Bucharest one in (2018), improving the distribution network and manufacturing facilities, and investing in training and upscaling the research & development team and technical advisors in order to deliver value added products & services to its partners – both industrial and artisan companies,  and retailers.
"By appointing  Gabriela Beres as Director for this region, Puratos decided to promote internal talent. We target to increase our  presence in these markets and to seize the development opportunities by enhancing cross-border collaboration and sharing of best practices, said Piet Sanders, markets director for Northern & Eastern Europe, to whom Gabriela is reporting.
Beres has gradated from Law Faculty at Babes-Bolyai University in Cluj-Napoca, and she has completed an executive MBA at ASEBUS.