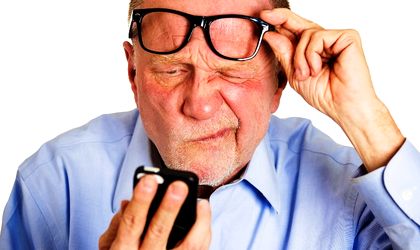 Fysic, a Dutch brand under which electronic devices for the elderly are marketed, estimates a 20 percent increase in demand for elderly electronic products in 2018 as compared to 2017.
According to representatives of the company distributing this brand in Romania , the total value of the local market for electronic devices for the elderly amounts to approximately EUR 1 million.
Fysic brand belongs to the Dutch company Hesdo, leader in the electronic products sector for seniors in the Netherlands. On the domestic market, Fysic is the only brand specially designed for seniors under whose name a wide variety of products are distributed: from fixed and mobile phones to drug organizers, night-vision LEDs, pulse monitoring devices, bicycles electric feet and hands, etc.
"Demand for elderly products is on the rise in Romania, and this trend is predicted to continue in 2019. People have begun to identify more and more the need for elderly people to enjoy high-performance and easy-to-use electronics, adapted to different conditions that occur with the aging process. In our country we live around 3 million elderly, and most dedicated electronics products are fixed and mobile phones. The novelty of the Fysic brand in Romania is the grouping of a very wide category of very good quality devices under one name. We want to create a market for electronic devices for seniors that can best respond to the growing demand, "said Mircea Matei, manager of HDM Distribution, a company that represents Fysic in Romania.
According to Fysic representatives in Romania, the local electronic equipment market for seniors currently stands at around EUR 1 million and includes about 80 percent of fixed and mobile phones with features such as large buttons, light alarms calls, hearing aid compatibility, SOS buttons with multi-number emergency call, larger screen and display, simplified menus, etc.
Fysic entered the local market at the end of 2016 at the initiative of Daniel Daraban, Chief Executive of Superfood Company, one of the largest importers and distributors of baby products. In the first semester of 2018, Fysic recorded a 30 percent increase in sales over the same period in 2017.
Under this name, 25 products are marketed in Romania and 40 internationally in countries such as the Netherlands, Belgium, the Great Britain, Germany, France etc. Fixed and mobile phones account for about 75 percent of Fysic sales in Romania. Fysic products are engineered by Dutch engineers to the smallest detail and constantly improved.
"We decided to bring Fysic to Romania, because the elderly are an important segment of the population with specific needs that are insufficiently covered. It is natural for them to benefit from the benefits of technology and to have useful, safe products of impeccable quality to make their lives easier. Fysic products focus on the main needs of seniors: easier communication, comfort, safety, maintaining a healthy state of health and the desire to have an active life, "added Daniel Daraban, a shareholder of HDM Distribution.
Among the products that have innovative features in the Fysic portfolio are the FX3930 fixed phone for people with hearing impairment. It is provided with six keys where pictures can be inserted, by pressing the number automatically assigned to that person.
Ring volume is high and voice can adjust to over 85 decibels. Another innovative product is the FC 55 drug organizer, which helps people with memory deficiencies and has three types of alarm: acoustic, light and vibration. It's easy to use, with a large screen, and the five pill compartments each have their own alarm. Also, the organizer is equipped with pulse monitoring mode.
Company Hesdo was founded in 1973 and has a turnover of EUR 50 million. Fysic's international portfolio comprises 40 products, present in most Western European countries: the Netherlands, Belgium, Great Britain, Germany, France, etc.