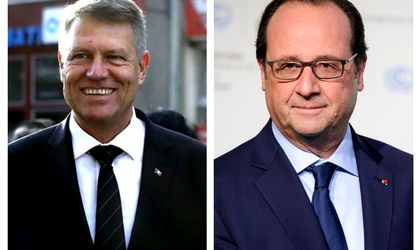 President Klaus Iohannis will meet with his French counterpart Francois Hollande on Tuesday, said the spokesperson of the Presidential Administration, Madalina Puscalu-Dobrovolschi. Their talk will focus on the the EU and French-Romanian relations, according to Mediafax.
"At 9 AM Iohannis will see Hollande at Cotroceni Palace. They will have a discussion and afterwards, there will be common press declarations. A visit in the research center in Magurele will follow. Agreements will be signed in the education and research fields, " said Dobrovolschi.
At 12:00 they will attend the Economic Forum "French-Romanian future partnerships".
"It's an important forum where we should analyze a little the French-Romanian relation from this point of view and maybe it'll be better to say that France is the fourth commercial partner of Romania and the fifth investor, " added Dobrovolschi.
"The two state heads will discuss about what is happening at the moment with the remaking of European project after Brexit. Moreover, Iohannis will attend the informal meeting of the European Council at this summit at Bratislava. It's the first summit in EU 27 formula, after the UK left," concluded Dobrovolschi.
Georgiana Bendre