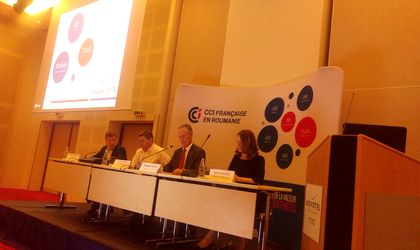 The French Chamber of Commerce CCIFER reshuffled the Board of directors during its 21 March general meeting, when it also launched the 2016 activity report and announced projects for the current year.
The French Chamber of Commerce had 500 members with an overal turnover of EUR 18 billion and 125,000 employees.
During its 21 March meeting, the CCIFER held elections for four positions of administrator and three censors. Fransois Coste, Groupama Asigurari, and Jerome France, EMI International, were reelected for a three year mandate. Hakim Boutehra, Renault Comercial, and Frederic Lamy, Leroy Merlin, joined the council for a first mandate.
"Together with the new members elected in the Council of administration, we will continue to develop new services in agreement with the strategic pillars of the Chamber: improving governance, establish a a digital strategy to extend our services, launching a marketplace to facilitate exchanges between members, launching an e-commerce platform to make training collaborators more accessible, strenghtening work groups with new topics, creating a service to identify opportunities in France for Romanian companies," Francois Coste, CCIFER President and Groupama CEO said.
CCIFER has three main missions, namely to stimulate the member community to allow them to identify business opportunities, propose services and commercial development and ultimately that of representing the voice of French-Romanian companies in the dialogue with institutional partners.