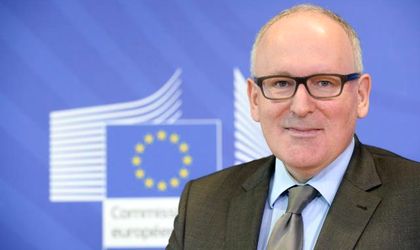 First Vice President of the European Commission Frans Timmermans, who is on an official visit to Bucharest on Thursday, encouraged the Romanian Parliament to support the Government's efforts to reach the objectives of the Cooperation and Verification Mechanism (CVM).
"To be successful in the CVM process, I encourage the Romanian Parliament to support the government in the final stretch of the marathon," Timmermans said.
The EU official was welcomed at the Romanian Government around 12 pm, where he met with PM Sorin Grindeanu and Justice Minister Tudorel Toader. The meeting was followed by a joint press conference.
Timmermans will hold a meeting with the public to discuss topics relating to the White Paper on the future of Europe, the 60th anniversary of the signing of the Treaty of Rome and that of a decade since Romania joined the EU. The meeting with the public will take place at the National Museum of Art of Romania, on Calea Victoriei, starting 5.30 pm.
The agenda of the meeting also included talks with heads of parliamentary parties as well as partners of the Mechanism for Cooperation and Verification (MCV).