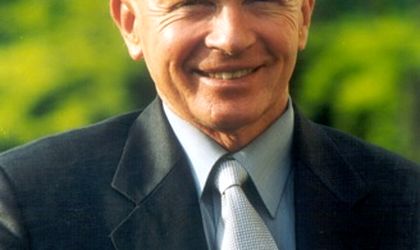 Franklin Templeton Investment Management Limited was officially appointed as investment manager and administrator of the multi-billion euro Romanian restitution fund, Fondul Proprietatea, at the fund's extraordinary general meeting of shareholders. Launched in December 2005, Fondul Proprietatea was established to compensate Romanians whose properties were confiscated by the former communist government. It was also decided that the fund will be listed on the Bucharest Stock Exchange within 90 business days from the registration of the fund with National Securities Commission.
Mark Mobius (pictured), Executive Chairman of the Templeton Emerging Markets Group and a pioneer in emerging markets investing, commented, "The decision today paves the way for the Fund's listing on the Bucharest Stock Exchange which will benefit its shareholders and the broader Romanian capital market in addition to attracting foreign institutional investors to the country. We also applaud the decision to approve the distribution of a dividend to shareholders, bringing us a step closer to long-awaited restitution which should be fully realized on completion of the Fund's listing in early 2011."
A body of nominees for the fund was also appointed. They include: Sorin Mindrutescu, CEO, Oracle Romania; Corin Trandafir, Attorney to several minority shareholders; Bogdan Dragoi, Ministry of Finance Secretary of State coordinating the Treasury Department; Monika Maurer, Adviser, International Relations and Finance to the Minister of Economy; Cristian Busu, Fondul Proprietatea Finance Director. The fund's supervisory board and directorate was revocated, and Deloitte was appointed as the fund's auditor.
Starting October, the fund will distribute a dividend to shareholders representing the fund's net profit for 2008 and 2009, the proposed amount being 0.0816 RON /share.
Franklin Templeton recently established an office in Bucharest, with a team of 17 employees, including six local investment analysts, who are further supported by the 35 portfolio managers and analysts of the wider Templeton Emerging Markets team. With these extensive resources in place, Franklin Templeton is well positioned to begin managing the EUR 2.7 billion fund.
A global asset manager, Franklin Templeton has had proven success in building its businesses in domestic markets, including recent office openings in Vietnam, Malaysia and Mexico.  The firm also has a strong presence in Central and Eastern Europe, with offices in Moscow, Warsaw, Budapest and Istanbul. Under the leadership of Vivek Kudva, managing director for the India and CEEMEA region, Franklin Templeton offers Luxembourg-domiciled investment funds and other tailored investment solutions to retail and institutional investors in Central and Eastern Europe including Estonia, Latvia, Lithuania, Poland, the Czech Republic, Slovakia, Hungary and Slovenia and plans to do the same in Romania.