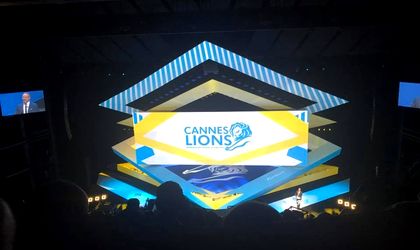 Cannes Lions International Festival of Creativity has announced the final list of the 2019 jury members, representing a diverse mix of disciplines across the global industry. In 2019, 48 percent of jury members are female, up from 46 percent in 2018, or 43 percent in 2017. The Cannes Lions juries will be represented by world class specialists from over 50 countries, with first-time jury members hailing from Jordan and Morocco this year.
By Romanita Oprea
At this year's competition, four Romanian advertising representatives have been chosen to be part of the juries, as follows: Andrei Cohn (Cohn & Jansen JWT) in the Brand Experience & Activation Lions Jury, Ioana Zamfir (Centrade Cheil) in the Direct Lions Jury, Irina Andreea Stoleru, (Publicis) in the Media Lions Jury and Simona Suman (McCann PR) in the PR Lions Jury.
In 2019, the juries are represented by the highest caliber of worldwide industry expertise. There are three OBE honored jury members and a broad spread of specialisms from across the entire industry landscape. Agency representatives sit alongside innovative brands and technology companies, including: Samsung, LEGO, Amazon and Alibaba; and Consultancies, such as: Deloitte, IBM iX and McKinsey, as well as a truly global spread of independent agencies, from Åkestam Holst and Innocean, to Wieden+Kennedy, Cheil and M&C Saatchi. A wealth of entertainment companies are also represented on the juries this year, such as Netflix and Marvel Entertainment.
Across the 27 specialist Lions, which reflect the breadth of disciplines across the creative marketing and communications industry, two new categories are launched this year, further diversifying the jury member demographic. The Creative Strategy Lions, aimed at strategists from a mix of companies and agency planners, celebrate how strategic planning can redefine a brand, reinvent its business and influence consumers. The Entertainment Lions for Sport honors creativity that taps into fan culture and leverages the power of sports and eSports in connecting people to brands.
Simon Cook, Cannes Lions, Managing Director, said, "As the shape of the work and the industry evolves, so do our juries. 2019 is our most diverse cohort yet, representing a wide range of countries, backgrounds and specialist expertise from all corners of the industry. Our juries play a crucial role in ensuring that we maintain the global benchmark and keep world-class creativity, in all its forms, at the heart of the Festival. I'd like to extend our thanks to each and every jury member."
The final Jury line-ups announced are: Experience Track: Brand Experience & Activation Lions and Creative eCommerce Lions; Impact Track: Creative Effectiveness; Craft Track: Digital Craft; Reach Track: Media, PR, Direct, Social & Influencer; Entertainment Track: Entertainment; Communication Track: Film, Titanium; Good: Sustainable Development Goals; and Health: Pharma.
To see the full 2019 jury line-up, see the Cannes Lions website.
The final 2019 Cannes Lions Jury members are:
Communications Track
Film Lions jury
Jury President – Margaret Johnson, Chief Creative Officer & Partner, Goodby Silverstein & Partners, USA
Alex Grieve, Executive Creative Director, AMVBBDO, UK
Alexander Nowak, Executive Creative Director, Droga5, USA
Anita Rios, Founding & Chief Creative Officer, Anita&Vega, Argentina
Felix Del Valle, Chief Creative Officer, Ogilvy, Brazil
Jens Pfau, Executive Creative Director, Jung Von Matt/next Alster, GMB, Germany
Julian Schreiber, Executive Creative Director, Special Group, Australia
Mónica Moro, Chief Creative Officer, McCann, Spain
Olivier Apers, Executive Creative Director, BETC, France
Yuta Okuyama, Creative Director, SIX, Japan
Fran Luckin, Chief Creative Officer, Grey Africa, South Africa
Garima Khandelwal, Executive Creative Director, MullenLowe Lintas Group, India
Giovanni Porro, Chief Creative Officer, Havas Milan, Italy
Hanna Stenwall, Copywriter, Nord DDB, Sweden
Ilkay Gurpinar, Chief Creative Officer, TBWA\Istanbul, Turkey
Mike Dubrick, Partner, Creative Director, Rethink, Canada
Pablo Batlle, Founder & Creative Vice President, Nomades, Mexico
Prasert Vijitpawan, Creative Director, Ogilvy, Thailand
Simone Moessinger, Creative Director, 72andsunny, The Netherlands
Thomas Pries, Executive Creative Director, The Unicorn, Denmark
Titanium Lions Jury
Jury President – David Lubars, Chief Creative Officer Worldwide, Chairman North America, BBDO, Global
Claudia Cristovao, Head of Google Brand Studio – APAC, Google, APAC
Fernando Machado, Global Chief Marketing Officer, Burger King, Global
Leslie Sims, Chief Creative Officer, Ogilvy, USA
Lynne Anne Davis, President – Asia Pacific, FleishmanHillard, APAC
Malcolm Poynton, Global Chief Creative Officer, Cheil Worldwide, Global
Pelle Sjoenell, Worldwide Chief Creative Officer, BBH, Global
Susan Credle, Global Chief Creative Officer, FCB Worldwide, Global
Susan Hoffman, Chair, Wieden + Kennedy, Global
Wesley Ter Haar, Co-Founder & Chief Operating Officer, Mediamonks, Global
Craft Track
Digital Craft Lions Jury
Jury President – Rei Inamoto, Founding Partner, IxCo, USA
Audrey Tamic, Executive Creative Director, Proximity BBDO, France
Chris Chen, Chief Creative Officer, Isobar China Group, China
Christian Waitzinger, Vice President, Executive Creative Director, Publicis Sapient, Continental Europe
Fred Siqueira, Co-Founder & Chief Creative Officer, Ampfy, Brazil
Geoffrey Hantson, Chief Creative Director, Happiness Brussels & Happiness Saigon, Belgium & Vietnam
Jax Jung, Global Creative Director, Cheil Worldwide, Global
Julia Dovlatova, Executive Creative Director, Geometry Prague, Czech Republic
Timoni West, Director of XR Research, Unity Technologies, USA
Valentina Culatti, Head of Creative Shop, Northern Europe, Facebook Creative Shop, Northern Europe
Industry Craft Jury
Jury President – Trevor Robinson OBE, Founder & Executive Creative Director, Quiet Storm, UK
Andre Kassu, Partner & Chief Creative Officer, CP+B, Brazil
Asheen Naidu, Executive Creative Director, BWM Dentsu, Australia
Erick Rosa, Chief Creative Officer, Beacon Communications, Japan
John Koay, Executive Creative Director, Ogilvy, Hong Kong
Menno Kluin, Chief Creative Officer, 360i, USA
Mohamed Oudaha, Creative Partner, J.Walter Thompson Casablanca, Morocco
Nene Parsotam, Senior Digital Creative Director, Vine Creatives, UK
Pully Chau, Group CEO Cheil Worldwide, Greater China
Ralf Heuel, Chief Creative Officer/Partner, Grabarz & Partner, Germany
Entertainment Track
Entertainment Lions Jury
Jury President – Scott Donaton, Global Chief Creative & Content Officer, Digitas, Global
Asawin Phanichwatana, Executive Creative Director, GreynJ United, Thailand
Brent Anderson, Chief Creative Officer, TBWA\Media Arts Lab, USA
Daniela Busoli, CEO, Formata Produções e Conteúdo, Brazil
Emily Bull, Cofounder and Managing Director, Hellofuture.TV, Australia
Jenny Orru, Director of Branded Content, No Filter, France
Jesus Revuelta, Chief Creative Officer, FCB&FiRe, Spain
Jill Wilfert, Vice President Global Licensing & Entertainment, LEGO, Global
Matt Hyde, Creative Director and Co-Founder, Glitchers, UK
Mindy Hamilton, Senior Vice President, Global Marketing Partnerships, Marvel Entertainment, Global
Richard Brim, Chief Creative Officer, adam&eveDDB, UK
Ryan McManus, Chief Creative Officer, VML, South Africa
Tamara Howe, Chief Content Officer – EMEA, Vice, EMEA
Thijs Bontje, Managing Creative Director, N=5, The Netherlands
Vivian Yin, CEO, Fremantlemedia, China
Wale Gbadamosi Oyekanmi, Founder and President, Dare.Win, Global
Experience Track
Brand Experience & Activation Lions Jury
Jury President – Jaime Mandelbaum, Chief Creative Officer, VMLY&R, Europe
Bronwyn Van Der Merwe, General Manager, Fjord, Australia
Dany Minaker, Executive Creative Director, Wunderman, Argentina
Emma De La Fosse, Chief Creative Officer, Digitas, UK
Marcelo Lenhard, CEO, Hands, Brazil
Pedro Gallardo, Managing Director & Digital Experience Director, DDB Worldwide, Spain
Sophia Lindholm, Art Director, Forsman & Bodenfors, Sweden
Thomas Murphy, Chief Creative Officer, McCann Worldgroup, USA
Valerie Madon, Chief Creative Officer, Havas Group Singapore, South East Asia
Youri Guerassimov, Executive Creative Director, Marcel, France
Alexis Bronstorph, Executive Creative Director, Taxi, Canada
Álvaro Sepúlveda, CEO / Chief Creative Officer, Media Trends Group, Chile
Andrei Cohn, Creative Director & Partner, Cohn & Jansen, Romania
Arina Avdeeva, Executive Partner and Co-founder, Friends Moscow, Russia
Ariyawat Juntaratip, Executive Creative Director, Leo Burnett, Thailand
Carla Leveratto, Creative Partnerships Manager, Google, Italy
Christie Cooper, Creative Director, DDB Group, New Zealand
Edson Athaíde, CEO and Creative Director, FCB Lisboa, Portugal
Erik Falke, Creative Director, TBWA\NEBOKO, The Netherlands
Flip Sorée, Head of Creative, Cheil Worldwide, China
Hyo-Jin Kim, Creative Director, HS Ad, South Korea
Janne Brenda Lyso, Executive Creative Director, POL, Norway
Jolien Tuyteleers, Copywriter, Wunderman Thompson, Belgium
Juan Manuel Larco, Chief Creative Officer, McCann Quito, Ecuador
Katja Behnke, Creative Director, Publicis Pixelpark, Germany
Khalid Osman, Creative/Co-founder, BLKJ, Singapore
Marie Claire Maalouf, Creative Director, Impact BBDO, United Arab Emirates
Mario Lagos, Executive Creative Director, Sancho BBDO, Colombia
Marta Fraczek, Associate Creative Director, Saatchi & Saatchi, Poland
Mauricio Fernandez Maldonado Cánepa, Managing Director, Harrison, Peru
Nicola Garrett, Creative Director, TBWA, South Africa
Noritaka Kobuse, Creative Director, Dentsu, Japan
Sandipan Bhattacharyya, Chief Creative Officer, Grey, India
Sebastian Arrechedera, Creative Chairman, AC mcgarrybowen, Mexico
Stephanie Lang, Executive Creative Director, Ogilvy & Mather, Switzerland
Creative eCommerce Lions Jury
Jury President – Daniel Bonner, Global Chief Creative Officer, Wunderman, Global
Cassandra Kelsall, Creative Director, Experience Design, Publicis Sapient, Australia
Daniel Sytsma, Chief Design Officer EMEA, Isobar, EMEA
Joanna Pena-Bickley, Head of Design, Internet of Things (IOT), Amazon, USA
Jon Bird , Chief Retail & Commerce Officer, VMLY&R, Global
Laura Liang, Chief Strategy Officer, DDB China Group, China
Laurence Thomson, Co-President & Chief Creative Officer, McCann London, UK
Lolly Mason, Digital Media & Martech Advisor, Global
Preethi Mariappan, Vice President, Head of Design APAC, VISA, APAC
Renata Bokel, Head of Consumer Engagement, IBM IX, LATAM
Good Track
Sustainable Development Goals Lions Jury
Jury President – David Droga, Founder and Creative Chairman, Droga5, Global
Ariana Stolarz, Global Chief Strategy Officer, MRM//McCann, Global
Atila Francucci, Creative Vice President , nova/sb Comunicação, Brazil
Christoph Becker, Global CEO & Chief Creative Officer, GYRO, Global
Claudia Gonzalez, Chair, We Are All Human Foundation and Co-Host, Global GoalsCast, We Are All Human, Global
Heesun Kim, Vice President, Head of Global Launch Marketing, Samsung, South Korea
Ishteyaque Amjad, Vice President – Public Affairs,Communications & Sustainability, Coca Cola, India
Maha Elbahrawi, Deputy Director (Judging in personal capacity), United Nations, Global
Per Pedersen, Global Creative Chairman, Grey, Global
Thomas Kolster, Mr. Goodvertising, Goodvertising, Denmark
Tina Allan, Executive Vice President Director of Data Solutions, BBDO, USA
Health Track
Pharma Lions Jury
Jury President – Robin Shapiro, Global President, TBWA\WorldHealth, Global
Adam Weiss, Managing Director/Creative Director, CDM, Japan
Andrew Spurgeon, Executive Creative Director, Langland, UK
Emily Spilko, Executive Creative Director, Evoke, USA
Bianca Eichner, Vice President & General Manager, WE Communications, Germany
Kathleen Nanda, Executive Vice President, Group Creative Director, FCB Health, USA
Laura Florence, Executive Creative Director, Havas Life, Brazil
Nanda Marth, Creative Director, Sudler, UK
Praful Akali, Founder & Managing Director, Medulla Communications, India
Xavier Sánchez, Founding Partner and Global Chief Creative Officer, Umbilical, Global
Impact Track
Creative Effectiveness Lions Jury
Jury President – John Seifert, Worldwide Chief Executive, Ogilvy, Global
Andrea Diquez, CEO, Saatchi & Saatchi, USA
Clare Hutchinson, Chief Strategy Officer, Havas Media, UK
Jesko Perrey, Senior Partner and Global Knowledge Leader, McKinsey and Company, Global
Joanne Lao, CEO, TBWA\Shanghai, China
Michael Chadwick, Chief Strategy Officer – APAC, Dentsu Aegis, APAC
Saurabh Varma, CEO, South Asia, Publicis Groupe, South Asia
Suzanne Powers, Global Chief Strategy Officer, McCann Worldgroup, Global
Dara Treseder, Chief Marketing Officer, Carbon, USA
Reach Track
Direct Lions Jury
Jury President – Nicky Bullard, Chairwoman and Chief Creative Officer, MRM McCann, UK
Jesus Lada, Chief Creative Officer, Havas, Spain
Kristal Knight, Creative Director, Saatchi & Saatchi, New Zealand
Myles Lord, Managing Creative Director/Partner, Serviceplan Berlin, Germany
Nathalie Brown, Vice President, Executive Creative Director, VMLY&R, USA
Nellie Kim, Partner, Vice President, Executive Creative Director, LG2, Canada
Rafael Donato, Creative Vice-President, David São Paulo, Brazil
Stephanie Moradi, Senior Copywriter and Partner, Åkestam Holst, Sweden
Stephen De Wolf, Executive Creative Director, Clemenger BBDO Melbourne, Australia
Tristan Daltroff, Creative Director, Buzzman, France
Abi Aquino, Executive Creative Director, MullenLowe, The Philippines
Alejandro Canciobello, Senior Vice President, Creative Director, Moon Rabbit, Singapore
Alessandro Sciarpelletti, Creative Director, We Are Social, Italy
Anders Muurman Holm, Copywriter, Morgenstern, Norway
Aranzazu Muraca, Digital Creative Strategist, The Juju, Argentina
Claudi Potter, Creative Director, Joe Public United, South Africa
Dejan Stajnberger, Creative Director, VCCP Prague, Czech Republic
Dhruv Warrior, Associate Creative Director, VMLY&R, United Arab Emirates
Enrique Renta, Chief Creative Officer, DDB Latina, Puerto Rico
Francisco Xavier Barona Guillén, Executive Creative Director, La Facultad, Ecuador
Gosia Drozdowska, Executive Creative Director, FCBBridge2Fun, Poland
Ignacio Quiñones, Chief Creative Officer, Grey Chile
Ioana Zamfir, Creative Director, Centrade Cheil, Romania
Johanne Bruun Rasmussen, Founding Partner & Creative Director, Hello Monday, Denmark
Karolina Galácz, Creative Director, DDB Budapest, Hungary
Kelly Pon, Executive Creative Director, BBH, China
Klaartje Galle, Creative Director, Darwin BBDO, Belgium
Manolo Techera, Chief Creative Officer, M&C Saatchi, Mexico
Marina Danjo, Copywriter, Dentsu, Japan
Mauricio Sarmiento, Chief Creative Officer, Leo Burnett, Colombia
Mischa Schreuder, Creative Director, Publicis One, The Netherlands
Mohammad Kamal, Managing Director & Creative Director, Memac Ogilvy Advize, Jordan
Oleg Tumanov, Executive Creative Director, Geometry Moscow, Russia
Pallavi Chakravarti, Executive Creative Director, Taproot Dentsu, India
Ricardo Chadwick Matteucci, Chief Creative Director, Fahrenheit DDB, Peru
Sami Basut, Executive Creative Director, Manajans J. Walter Thompson, Turkey
Seulki Lee, Creative Director, Cheil Worldwide, South Korea
Stefan Dätwyler, Creative Director / Partner, Wirz Activation, Switzerland
Steve Babaeko, Chief Creative Officer and CEO, X3M Ideas, Nigeria
Thanasorn Janekankit, Executive Creative Director, CJ Worx, Thailand
Media Lions Jury
Jury President – Karen Blackett OBE, WPP UK Country Manager & MediaCom Chairwoman UK & Ireland, WPP, UK
Christine Removille, Global President, Carat, Global
Emer Fitzgerald, Head of Media Connections, Rothco, Ireland
Karine Courtemanche, President, Touché!, Canada
Kasper Aakerlund, President – APAC, UM, APAC
Mark Murray Jones, Chief Strategy Officer – EMEA, OMD, EMEA
Nickie Scriven, CEO – Australia, Zenith Media, Australia
Paulo Ilha, Vice President, Media, DPZ&T, Brazil
Steve Williams, Global Chief Operations Officer / Americas CEO, Essence, Global
Yean Cheong, Head of Cadreon Asia Pacific, Cadreon, APAC
Alan Vainrub, CEO, PHD, Costa Rica
Atva Van Zanten, Managing Director, Mindshare, The Netherlands
Carlos Rojas Girao, CEO, IPG Mediabrands, Peru
Corinne Verstraete, Managing Director, Mediacom, Belgium
Daniel Bueckman, Executive Director, Hearts & Science, USA
David McCallen, Head of Strategy, OMD, New Zealand
Ernest Riba, Managing Director, Havas Media Group, Argentina
Geovanna Nassar, Head of Trading, Planning & Buying and General Manager GMT, Group M, Colombia
Irina Andreea Stoleru, Senior Art Director, Publicis, Romania
Karin Libowitzky, CEO, Vizeum, Germany
Kate Ivory, Managing Partner, Strategy, OMD, UK
Kelly Huang, CEO, Omnicom Media Group, Taiwan
Lars Samuelsen, Chief Strategy Officer and Head of Digital, Uncle Grey, Denmark
Lee-Ann Morris, Managing Director, PHD, New Zealand
Mallika Shankarnarayan, Chief Strategy Officer, Havas, Singapore
Marie-Esther Mathonnat, Managing Director, Arena Media, France
Michael Zylstra, SSA Chief Strategy Officer, Dentsu Aegis Network, South Africa
Nathalie Diethelm, CEO, Havas Media, Switzerland
Nonora Elmudesi, President, Ogilvy, Dominican Republic
Oscar Dorda, General Manager, PHD, Spain
Peder Mittet, CEO, Publicis Media, Norway
Rachel Forde, CEO, UM, UK
Rathi Gangappa, CEO, Starcom, India
Sargi Mann, Executive Vice President, Head of Digital Strategy, Havas Media Group, USA
Shula Sinclair, Global Head of Strategy, Spark Foundry, Global
Simone Skoog, Former Chief Operations Officer, GroupM, Sweden
Tarek Daouk, CEO, Dentsu Aegis, United Arab Emirates
Tifenn Cloarec, Strategy Partner, Vizeum, USA
Tim Ringel, Global CEO, Reprise Digital, Global
Vincenzo Piscopo, Head of Branded Content, Ciaopeople, Italy
Vivian Zhu, CEO, Zenith, China
PR Lions Jury 
Jury President – Michelle Hutton, Managing Director, Global Clients, Edelman, Global
Candace Peterson, Global Managing Director Brand Marketing, FleishmanHillard, Global
Cornelia Kunze, Founder/Managing Partner, i-Sekai, Global
Howard Pulchin, Global Creative Director, APCO Worldwide, Global
Jenna Young, Executive Creative Director, Weber Shandwick, USA
Marta Karlqvist, CEO, Nordics, Burson Cohn & Wolfe, Sweden
Shouvik Prasanna Mukherjee, Executive Creative Director, Golin, Singapore
Simon Shaw, Global Chief Creative Strategy & Innovation Officer, Hill+Knowlton Strategies, Global
Vania Ciorlia, Executive Vice President, Ketchum, Brazil
Yvonne Van Bokhoven, Executive Vice President Europe, LEWIS Communications, The Netherlands
Alexey Fedorov, Executive Creative Director, BBDO, Russia
Angela Spain, Head of PR Activation & Social, FCB Auckland, New Zealand
Carlos Verastegui, Partner and Chief Creative Officer, ACHE, Mexico
Caterina Tonini, CEO, Havas PR Milan, Italy
Deepshikha Dharmaraj, Managing Director, Genesis Burson Cohn Wolfe, India
Diana Littman, CEO, MSLGROUP, USA
Dita Stejskalová, Managing Director, Ogilvy PR, Czech Republic
Kenn Van Lysebeth, Creative / PR, TBWA/Brussels, Belgium
Kilgeun Jung, PR Executive, CJ Corporation, Global
Kotaro Tachiya, The Advisor, Hakuhodo, Japan
Maciej Marasek, Partner / Chief Creative Director, 2012 Agency, Poland
Manuela Munoz, Corporate Communications Manager, Netflix, Latin America
Marie-Josee Gagnon, CEO & Founder, Casacom, Canada
Marith Hartmann, Partner, Senior Advisor, GK Nordic, Norway
Melinda Po, Managing Director, Edelman, China
Murat Lecompte, Chief External Affairs Officer, Socar, Turkey
Rachel Friend, CEO UK & Ireland, Weber Shandwick, UK & Ireland
Rodrigo Freitas, CEO, Central De Informação, Portugal
Russ Tucker, National Creative Director, Digital Arts Network, Australia
Sandrine Cormary, General Manager, Omnicom Public Relations Group, France
Simona Simon, Group Creative Director, McCann PR România, Romania
Sujitra Ketsuwan, Director, Corporate Affairs and Marketing Communications, Dentsu X, Thailand
Suzanne Talhouk, General Manager, J. Walter Thompson, Lebanon
Valerie Tan, Vice President – Public Relations, Social Media and Internal Communications, Emirates, Global
Vanesa Peloche, Managing Director Madrid, Equipo Singular, Spain
Social & Influencer Lions Jury
Jury President – PJ Pereira, Co-Founder & Creative Chairman, Pereira & O'Dell, Global
Anneli Rispens, Director – Content & Social Media, DDB Worldwide, EMEA
Bekah Sirrine, Head of Brand Creative, Instagram, USA
Bia Granja, Founder & Chief Creative Officer, Youpix, Brazil
Mihnea Gheorghiu, Global Creative Director, Publicis, Global
Nicole Holzenkamp, Brand Experience Director, Kolle Rebbe, Germany
Nils Leonard, Founder, Uncommon Creative Studio, UK
Rodrigo Sobral, Global Chief Creative Officer, Oliver, Global
Sandrine Plasseraud, Founder & CEO, We Are Social, France
Toshihiko Tanabe, Creative Director, Dentsu, Japan
Tytus Klepacz, Senior Creative Director, J. Walter Thompson Dubai, United Arab Emirates