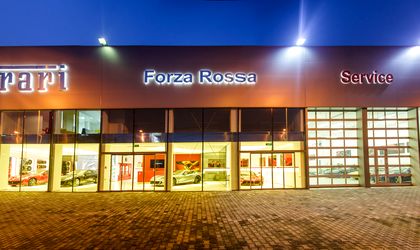 Forza Rossa, the representative of Ferrari on the Romanian market, opens in Bucharest one of the biggest showrooms in Europe, of over 4,000 sqm exclusively for Ferrari.
The building respects the newest regulations of Ferrari and comprises a few technological equipments which are unique in the region. Moreover, the building comprises a showroom exclusively for second-hand cars, as well as a club of Ferrari owners, a space exclusively for the events of the brand's clients.
Forza Rossa Holding is authorized to repair all the Ferrari cars due to the implementation of the new specific technological standards.
Camelia Bazac, managing director of Forza Rossa Holding, said: "We are celebrating 70 years of Ferrari and 10 years of presence in Romania. The new showroom is waiting for its guests in a lounge, with a creation loft, an extension of the customization program of the factory in Maranello, as well as with an area for the delivered cars."
Enrico Galliera, senior vice-president of Ferrari SpA, added that "We have many Ferrari owners and fans in Bucharest, Romania, as well as in the region, and this showroom is conceived to be closer to them."