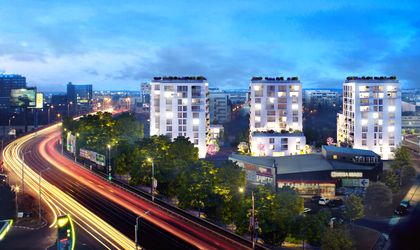 Forte Partners, known as a developer of class A residential properties, is investing EUR 37 million in a new residential project developed under Forte Partners Residential.
Aviatiei Park will include 352 units and is located in the nothern area of the city, in the Aviatiei neighbourhood. This is the fourth residential project developed by the new division.
The Forte Partners' development plan involves consolidating its office portfolio and entering the residential segment. The delivery and product development capability in this new segment has been tested by means of three residential boutique projects: London 27, Calderon 80 and Suvenir 1. The London 27 project is sold in full and has recently received the awarded of the 2017 Bucharest Architecture Annual. Calderon 80 and Suvenir 1 are in different stages of work.
"I chose to test the busines formula I had in mind before developing a project with hundred apartments. I teamed up with architecture firm ADNBA and set up a new division, Forte Partners Residentials," Geo Margescu, founder and CEO of Forte Partners.
Aviatiei Park received the contruction permit for the first phase and will start the execution phase this summer. The project includes four buildings and will be devlivered in two stages. The first stage includes two blocks of flats, 176 apartments and studios, which will be completed within 18 months from the start of the construction phase. In the second stage the next 176 units are expected to be delivered within 6 months.
Aviației Park aims to answer a real need for medium-high level properties in the northern area of the city. Over 50 percent of the surface of the project will be covered in green spaces. Out of the 15,000 square meters of land, only 3,700 square meters will be covered by the four buildings. Over 11,000 square meters are dedicated to the market, alleys for pedestrians, access roads and vegetation.
The height of the blocks is P + 10, while the area of the studios and apartments varies between 50 and 150 square meters.