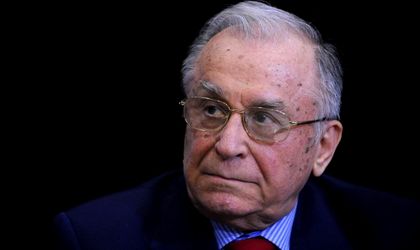 Former Romanian president Ion Iliescu could be prosecuted for crimes against humanity for his role in the 1989 Revolution, alongside former PM Petre Roman and Gelu Voican Voiculescu. The request for the prosecution of the three key figures of Romanian revolution and the early days thereafter, who later played an important role in the country's politics, was made by General Prosecutor Augustin Lazar.
General Prosecutor sent the request to president Klaus Iohannis, who will review it. According to a decision of the Military Prosecutor's Office dating from 18 December 2017, the in December 1989 there was no power vacuum.
Military prosecutor Marian Mazar said at the time that starting 22 December 1989, there was a military diversion, which was the cause behind the numerous deaths, injuries and destruction of property. Moreover, the prosecutors also identified the source of the loud sound that caused panic during the speech of former dictator Nicolae Ceausescu, which cause the rally he ordered to be dissolved.
The prosecutors also said the troops part of UM 01417 Targoviste, the location where the Ceausescus stayed, were subject to diversions. Moreover, they concluded that the troops received orders from the top echelon of the military regarding the execution of the presidential couple.