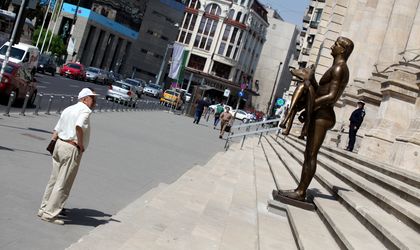 The sculpture unveiled outside Bucharest's National History Museum which portrays the naked Roman emperor Trajan carrying a wolf has triggered controversy in Romania, and this has not failed to catch the attention of foreign media.
In an article called Howls of derision in Bucharest as Romania statue unveiled, BBC News Europe says "the statue representing the birth of the Romanian nation has been greeted with derision by the public and critics. "
"It is supposed to represent the fusion of the Roman empire with the ancient tribes of Dacia. But the work by Vasile Gorduz has been described as a "monument to Romania's stray dogs," says the article.
"The nudity and apparent awkwardness of the Trajan figure, the impracticality of the pose (neither arm supports the wolf's weight), and the appearance of the wolf, have all attracted negative comments," says the BBC.
Picture by Mihai Constantineanu
Otilia Haraga