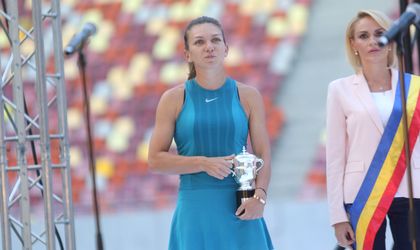 The Associated Press published an article about the ceremony held at the National Arena in Bucharest where WTA champion Simona Halep presented her Roland Garros trophy to her fans, also noting that Bucharest Mayor Gabriela Firea was booed and heckled by the same people who enthusiastically cheered for the tennis player.
The AP's story was picked up by the New York Times, Daily Mail, Washington Post, ESPN and several other news outlets.
"About 20,000 people turned out to applaud Simona Halep for becoming the first Romanian tennis player in decades to win a Grand Slam singles title," AP writes.
"But when Bucharest Mayor Gabriela Firea appeared on stage next to Halep, the cheers turned into jeers. Firea hit back, claiming that civic groups allied to Hungarian-American billionaire George Soros conspired to 'compromise the event'".
After making these accusations on her Facebook page, Gabriela Firea was hit by an overwhelming amount of negative comments and responded by shutting down her page.
LeFigaro also wrote about Halep's success, writing that "Romanians had been waiting for something like this since 1978, when Virginia Ruzici got the crown in Paris. Inevitably, Romanians had a proper celebration of the return of the wonder kid Simona Halep on Monday. Two days after her victory on the clay at Roland Garros, her first grand slam title after three other attempts, the world number one had a triumphal greeting, as if she were a rock star, with over 15,000 people gathered on the national stadium."