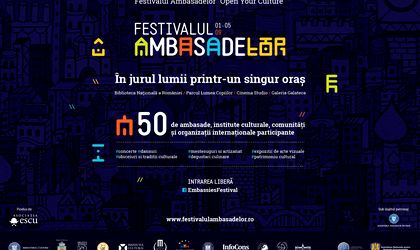 The first edition of the Embassies Festival, "Open your Culture", will kick start on September 1 during the National Diplomatic Days and until September 5 will offer the Bucharest public a wide array of cultural events, according to its organizer, the ESCU Association.
The full program is available here
More than 50 embassies will present artistic programs during the festival including exhibitions, performances, debates on international culture and policies and stands which can visited and attended for free.
"The Embassies Festival is a gateway to other cultures and one of rare events we expect to increase the Bucharest's prestige, attractiveness and identity, some of the most essential features of any European metropolis. The program will invite visitors to experience the authentic music, dance, food, film, and art of plentiful distinctive nations, along with a rare behind-the-scenes look into the embassies' life," according to its organizers.
They hope the festival will help transform Bucharest into a multicultural capital and  develop the knowledge, tolerance, education and interaction level of the Romanian public with regards to the specific manifestations of different cultures which are represented in Romania by the embassies and the expat communities.
Staff