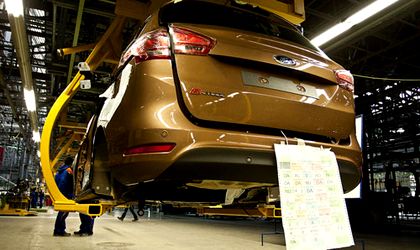 American car maker Ford has kicked off a massive recruitment campaign in Romania. The company will create 976 new jobs at its plant in Craiova, southern Romania, where it manufacturers the B-max model and the engine 1.0 EcoBoost.
The company will make in Craiova the small-SUV model EcoSport, which required additional investments of EUR 200 million. In total, Ford has invested EUR 1.2 billion in its Romanian plant.
At present, Ford has 2,715 employees at its manufacturing unit in Craiova.
"We are glad to announce the creation of close to 1,000 new jobs at our high-tech plant that we own in Craiova," said John Oldham, the president of Ford Romania.
The recruitment of the new staff will be handled by Manpower, the HR services consultancy.
"The selection process for the new employees started in April and will be carried out until the end of July. Starting August, we will be glad to have all the new employees that will receive a specific training so as to understand the Ford Global System of Production and the roles they will have in preparation for the launch of the future EcoSport model," said Marina Babara, director of the HR department at Ford Romania.
Ford will manufacture in Craiova the new generation of the EcoSport model that will be distributed in Europe.