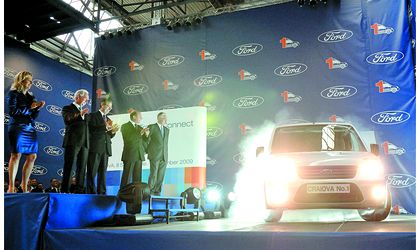 Ford Romania is suing the Romanian state for the return of USD 3.5 million (RON 11 million) the carmaker paid in customs duties for car parts imported from Korea between November 2007 and November 2008. Mircea Matei, coordinating manager of the Craiova Regional Department for Excises and Customs Operations (DRAOV), said that under Romanian law Ford was entitled to apply at the time for exemption from the customs duties, but that any such request must be submitted no more than one year after payment is made.
Nadia Crisan, Ford Romania representative, confirmed the litigation between Ford Romania and the National Fiscal Administration Agency (ANAF), National Customs Authority (ANV), Department of Customs Techniques and Control at the ANV and the DRAOV, with the trial due to start on April 8.
American carmaker Ford of Europe last year began production of the utility vehicle Transit Connect at its Craiova factory. According to John Fleming, CEO of Ford of Europe, the Craiova plant will assemble between 20,000 and 30,000 cars from this year. At the end of last year, the European Commission (EC) authorized, subject to certain conditions, training aid of up to EUR 57 million planned by the government for Ford Romania. The Romanian state also offered guarantees of some 80 percent of the EUR 400 million loan that Ford received from the European Investment Bank.
Dana Ciuraru