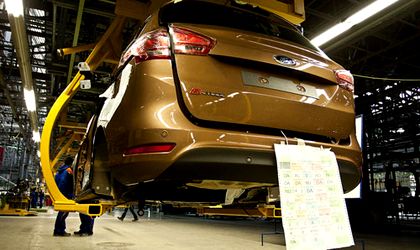 US car maker Ford will install 190 new robots at the Ford Craiova plant, which will produce the EcoSport SUV model starting this fall. For this purpose, the company will also hire 900 extra staff.
According to company representatives, production lines are currently being modified in preparation for the start of production. The section producing the bodies of cars, which currently have 320 robots that support the production of B-MAX, is currently undergoing major changes, due to the fact that 190 new multifunctional robots are about to be installed, and this will have major quantitative and qualitative contributions on the final products. Almost half of the investment announced for the launch of production of the EcoSport model is used for the section producing car bodies, one of the most technologically advanced sections in Ford's global production system.
The general assembly plant section saw the extension of one of its lines. Currently, the section delivers a B-Max car every 100 seconds.
The trim line was also extended, leaving space for the new work stations needed for the manufacturing of the EcoSport model. Moreover, the chain conveyor at a median level was extended with 20 to 30 meters and a new elevator was installed.
"We are on time with everything connected to the transformation process of the Craiova factory, which gets closer and closer to receiving the new EcoSport model on its production lines. Our teams are fully available to ensure an excellent of the product," Ford Romania president John Oldham said.
Starting 2008, Ford invested EUR 1 billion in the production of cars and engines at its Craiova factory.
Georgeta Gheorghe