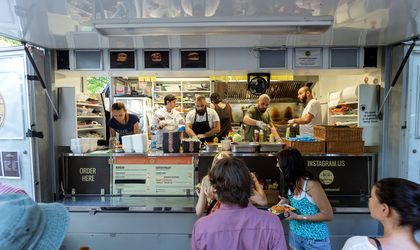 Food trucks have been trundling around the capital for a while now, with the international phenomenon hungrily embraced by local diners. If your meal generally comes on wheels, then you probably know Sunday Bagels, Burger Van, Squadra Pizza and Furgoneta. Business Review donned its napkin and sampled the fare at these food trucks to find out if the business is the greatest thing since sliced bread.
By Oana Vasiliu
Maybe you have seen the Jon Favreau movie Chef, starring the director, Robert Downey Jr. and Scarlett Johansson, or perhaps you've read articles about people who've given up their old formal jobs to prepare food in a van. Either way, it's happening. Some say it's a hipster street food trend, others say it's all about the social media buzz, but either way, people want to eat affordable food made from known ingredients – the simpler, the better. And food trucks seem to be a good answer to this basic need.
Basically, the fare on sale in these vans is sandwiches in different forms – burgers, pizza, bagels or hot dogs, with sides, usually fries. While local diners are familiar with burgers or hot dogs, bagels are the new kid in town. They are ring-shaped bread, roughly hand-sized, served cut in two and usually filled with ham, cheese, salmon or a combination thereof. So how does one make a business of it?
Initial recipe
In 2014, Alexandru Manole opened the first food truck in the country: The Burger Van. "It was a long process. Being the first food truck in Romania and the first burger van, I wanted something that would convey this idea – that it's THE burger van. I had to come up with the design, the branding, the logo, then buy the actual truck, deal with the legal side of the business etc. In total, it took about five months from idea to reality," said the founder. Burger Van now has a fixed, indoor location on 4 George Vranca Street (near Cismigiu Gardens), and two vans, which can be tracked on their official website www.burgervan.ro to see where they pull up. The van is a former mobile shop from the chain Mic.ro and cost around EUR 20,000 with another EUR 5,000-6,000 spent on equipment.
"You know the song Easy (like Sunday morning) that Lionel Richie sings? It was ringing in our heads when we came up with our philosophy. The brand is called Sunday, because we wanted our location and services to evoke that happy, easy, stress-free feeling you have on a Sunday morning at brunch time. Sunday morning, in our vision, is really the zenith of any weekend. We are not actually open during the weekends, but what we want to do is to offer our customers a little piece of the weekend during their workdays," says Alex Petrescu, co-founder of Sunday Bagels. The van is located in Pipera, just across from the subway entrance/exit. The initial investment was around EUR 24,000, but since the launch in 2014, the company has invested in various fixer-uppers.
"Initially, we were thinking about opening a more traditional bistro by renting a larger space in an office building. However, the costs of doing that were very high, and so was the risk, especially considering that we were about to start our very first business. With this in mind, we decided to downsize our business model and make it more lean and flexible. Eventually we decided to use a trailer, because it would allow us to reduce our fixed costs significantly by paying a smaller rent, and it would also give us more flexibility, since we could just move it to another location if things did not go well," adds Petrescu.
On Buzesti Street, near Victoriei Square, hungry passers-by can find Furgoneta, a recently opened food truck which serves burgers, hot dogs and fries. "Our story is quite simple: two friends going on a food adventure, in a four-wheeled super kitchen. We just want to cook and create beautiful memories for anyone who is up for a burger or a hot dog – because our food is meant to fill up the soul/heart, not only the stomach," says co-founder Razvan Cismigiu. "Besides, we are a moving kitchen, we go to events, meet new people, make more friends. Everything is actually a mix of good food, good atmosphere, good people and good memories. Regarding our image and branding concept, we were inspired by the food trucks we met on our journeys throughout Europe, but mostly the USA. It was a little bit difficult at first to get everything done as we imagined," adds Cismigiu.
Officials from Squadra Pizza have already worked in the HORECA industry for nine years before they opened up their business.
"The Street Gourmet phenomenon was making timid steps in Romania when we decided to give pizza a proper representation within this current. (..) The diversity of dishes that young people experience when going out, the costs they consider fair for a meal, along with the growth of the events in Bucharest confirmed us that it was high time for a pizza van. The launch of FOOD HOOD, our current location, in the Old City Center, two years ago, proves that the Romanian public is ready to have a dedicated food van market. (..) It's a Mercedes Camper from the 70's that has been fitted with a wood-fried oven, running water, electricity and a full equipped kitchen. The restoration and make over of the Camper lasted for about three months. With every step we took, we bore in mind that the final product was to be reminiscent of a postcard from Italy. The final touch was an orange & deep blue paint, original but at the same time romantic, with a vintage twist," explained the officials. The car itself cost EUR 2.000, but the restoration, equipment, papers and authorisation documents added another EUR 20.000.       Also, they mentions that "Squadra, Pizza della Strada is a pure statement about who we are and where you can find us. The rational of the brand conveys that we are a team of well trained pizzaiolos (just like the Squadra Volante – Flying Squand; the police department in Italy) who sense the desperate appetite for pizza of our brothers and step in to quench it with delicious freshly baked products, anywhere, anytime."
Taking a bite out of business
Since its launch, Burger Van has expanded, and now has two vans and an indoor location. A typical customer usually buys one burger – the prices are from RON 15-24. "We try to buy the ingredients from local producers, but the industry is not that developed in Romania, so we end up buying mostly from the big players," says Manole.
A typical Sunday Bagels customer has a bill of RON 15. The founders got a recipe for bagels from a Jewish culinary arts school in Brooklyn, New York, when they went there to do some research before launching the business. Every morning, a local baker makes the bagels according to this recipe. "The other ingredients are from various local distributors. We would like to buy as much as possible from local producers, but some ingredients, such as the Italian prosciutto and the Spanish chorizo, have to come from their respective countries in order to meet our standards of quality," says Petrescu.
Furgoneta sources its ingredients "from a really famous butcher's shop which brings us the freshest meat every single morning, and the buns are from a small bakery that makes custom made buns. They deliver the fresh buns every single morning. The rest of the ingredients are from our local vegetable markets."
A Squadra Pizza average bill has grown since last year to about RON 45. Currently, they serve 11 types of pizza, in two sizes,pizzetta and classic, inspired from original Italian recipes and cooked with ingredients from both local and Italian caterers.
Hungry for a challenge
First and foremost, in Romania there is no law covering this type of business, so it's rather difficult to get everything in order. Still, there are ways to negotiate with officials, who consider food trucks a restaurant.
Petrescu, of Sunday Bagels, reveals that the biggest challenge is finding employees. "This is a nationwide problem, particularly regarding low-level jobs. Because many unskilled Romanian workers went abroad after we entered the EU, the country is left with a very low supply of unskilled workers that does not match the growing demand. This creates a great hurdle when you wish to expand a small business that relies on unskilled workers who must be very hospitable with clients, and at the same time flexible and involved in the rather chaotic organizational processes of a such a start-up."
Meanwhile, Manole of Burger Van claims that "there are lots of challenges. The main ones would be providing the same quality all the time, regardless of employees or location, and the other one – strictly for food trucks – is finding private parking or events where you can go with the trucks and sell food, because in Romania a permit for street commerce doesn't yet exist."
Cismigiu of Furgoneta offers further insight. "If you are really passionate about it and you are ready to commit to it 100 percent, then things get much easier." Furthermore, he argues that the Romanian laws aren't made for this kind of business, and adds that the people are a great asset.  "You spend most of your day in a really small place with three other people. Cooking is not the only essential skill. What also matters a lot is the personality of the person, the value that he or she can bring to the entire concept and basically to the mood of an entire day."
The Squadra Pizza officials say that finding the right  location is one of the main challenges for a van, following the interaction with the clients,  is also among our concerns, as in a restaurant you have plenty of time to socialize with your clients, another major distress is cooking and managing the orders at the same time during pikes and last but not least, setting up such a constrainted space as the kitchen of the food van, because the sanitary certificates bind us to many regulations. "And that's because as a core business we are registered as a restaurant, although our status is quite different. We would have liked to benefit from more simplified procedures", notes them.