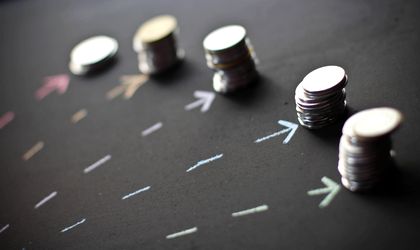 EU funds, bank loans and government schemes are currently available to SMEs looking to grow their business in Romania. However, despite all these options, a large share of these companies are financing their own operations.
Ovidiu Posirca
This is happening especially in the case of new firms, where the owner or his or her family and friends are the sole financiers.
According to research published last summer by the National Council of Private SMEs in Romania (CNIPMMR), only a quarter of the more than 1,300 surveyed entrepreneurs said they used bank finance to develop their business.
The association suggested that the creation of loan mediators for SMEs in each county would help more firms do so. This is already happening in France and would help the companies to make financing requests that would have higher chances of getting approval from lenders.
Romania's ratio of bank assets to GDP remains one of the lowest in the EU. It amounted to 78 percent of GDP at the end of 2014, while non-banking financial institutions made up 5.9 percent. Pension funds and insurers accounted for 3.7 percent and 3.5 percent respectively, according to data from the National Bank of Romania (BNR). The central bank acknowledged the fact that financial intermediation in Romania was in decline.
Available EU funding…
Nonetheless, the European Commission has continued to roll out financial instruments aimed at supporting SMEs, which generate most of the jobs across the EU.
At present, several banks in Romania offer loans under the Joint European Resources for Micro to Medium Enterprises (JEREMIE) initiative. In this way, companies can get structural funds that can be used for innovation or for the expansion of existing operations.
A search online for access to EU finance in Romania yields close to 40 results on various financing mechanisms for companies on the europa.eu portal. There is microfinance of up to EUR 25,000 or large loans which can go as high as EUR 25 million. The bigger ones are provided by the European Investment Bank in partnership with several local lenders.
Moreover, billions of EU funds are available for SMEs. In the Human Capital Operational Program (POCU) EUR 4 billion is available for SMEs, while the Regional Operational Program has another EUR 1 billion, according to Florin Jianu, president of the Young Entrepreneurs Association of Romania (PTIR).
…and local options for new companies
Locally, the Ministry of Economy has announced several programs aimed at supporting new businesses, such as the SRL-D initiative, under which around 500 entrepreneurs will receive EUR 10,000 from the state to kick-start their companies. Another scheme aims to encourage the foundation of firms in rural areas. Just over 200 companies will be helped this year.
Mihaela Matei, entrepreneurship communication officer at EY Romania, cited the results of a barometer of Romanian entrepreneurship conducted by the professional services firm. Some 82 percent of respondents said that access to finance was difficult or very difficult in 2015. However, this figure was down by 6 percent from the previous year.
The situation gets even more complicated when it comes to start-ups.
Florin Grosu, Traderion

¨Venture capital is almost non-existent for early-stage start-ups. There are some business angels, albeit few and not that organized. But things are starting to change. Many of the new business angels are former or current entrepreneurs in the technology field, who have already made an exit. Those people are already turning into angel investors and they are the ideal angels because they come also with experience not only with money, which is really important," Florin Grosu, co-founder of Traderion, an IT start-up, told BR.
He added, "Up to now, most of the so-called angel investors were devil investors. They had money, but also experience that was inappropriate, especially for IT, and were to some extent trying to impose on entrepreneurs what to do, which hasn't been happening for over 20 years anywhere else."
The company has its HQ in Delaware, US, but has a development team in Bucharest.
Some companies are also betting on the capital market, although owners' appetite to list their firms on the stock exchange is still limited. Last year, the Bucharest Stock Exchange launched the AeRO platform, which targets companies in the early stages that have huge growth potential and need access to finance for expansion. In February, 23 companies were promoted to the premium category in this market.
Key financing options
Government financing schemes for SMEs in 2016
Name                         Total budget
SRL-D program         RON 22.7 million for de minimis aid
Commerce Services             RON 21 million for de minimis aid
Organization of SME trade show      RON 3 million
Entrepreneurship in rural areas         RON 25.9 million for de minimis aid
Micro industrialization                        RON 60.9 million for de minimis aid
Source: Agency for Implementation of Projects and Programs by SMEs (AIPPIMM)
Main financing sources for local SMEs in 2015 – survey*
Self-financing 82 percent
Bank loans      24.5 percent
Trade loans     18.3 percent
Leasing           3.8 percent
Grants             1.8 percent
*Source: CNIPMMR research on a sample of 1,375 entrepreneurs, published last summer