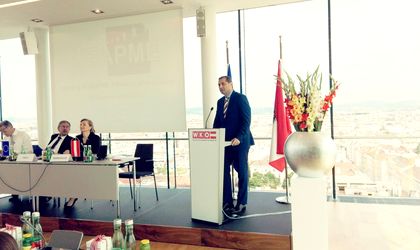 Florin Jianu was elected vice president of European Union of Handicraft and SMEs on June, 10 at Vienna, in the presence of His Excellency Reinhold Mitterlehner, vice-chancellor and ministry of science, research and economy and of Christoph Leitl, president of Australian economy chamber and 34 representatives of member organizations.  
 Jianu declared that " the actions of the union have to be based on proactivity and our organization to be the one that launches legislative proposal at European level and not to limit it at offering feedback for the already existing initiatives. Moreover, the union has to continue its institutional development policy by attracting new financial resources through the financing programs, through the consolidation of cooperation relationship with the European institutions and also through attracting new members."
Following the elections, Jianu joins the administration council of the union represented by 20 vice presidents in its activity of supporting the entrepreneurial environment at European level and of conceiving the action directions in this matter.
The European Union of Handicraft and SMEs represents at the European level the interests of SMEs, having 64 organization members from 34 states. It represents 12 million SMEs with over 55 million employees at the level of entire Europe. It establishes the politics of SMEs at European level.
Georgiana Bendre