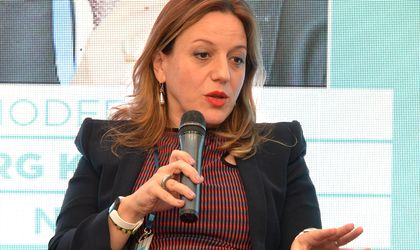 Commercial banks in Romania are not yet prepared to support highly innovative enterprises, said Lara Tassan Zanin, the Head of the Bucharest Office of the European Investment Bank (EIB), during the opening panel of the sixth edition of the Foreign Investors Summit.  
"Romania has a big innovation drive at the moment, but we're not seeing the banking sector being ready to provide support for it. For example, the high-tech manufacturing sector is having difficulty in obtaining bank financing and there are many under-capitalised companies in Romania. The banking sector should focus more on increasing its offering to innovation-led enterprises, and the EIB provides several financial instruments in order to help banks do so," said Lara Tassan Zanin. 
Asked about Romania's chances to be officially classified as a developed economy in the next year or two, Zanin said that whether this happens or not, the country needs to ensure that it can sustain this type of change.
"The EIB has been in Romania for 25 years and we're here to turn such a classification into a realistic possibility. Romania has had remarkable growth in the past few years, but we would like this to be much more investment-led rather than consumption-led.

The EIB has been involved in supporting long-term investments in Romania, for example by helping the country absorb EU funds, both through loans that help it provide the co-funding required for EU projects as well as advisory services that help authorities take projects up to EU standards. We've also recently been working on preparing projects for the regional hospitals in Iasi, Cluj, and Craiova," she explained.
In terms of the factors that act as obstacles in Romania's attempt to raise its level of investment, Zanin said that short political cycles and the reluctance of both the public and the private sectors to collaborate with each other are some of the biggest issues.
"Our aim is to finance long-term investments, and the fact that political players change every 2-3 years affects our ability to do so," she argued. "We are also trying to support a circular, green economy and the transition to clean energy, but on this matter we lack a healthy interaction between the public and private sectors – both sides are reluctant to sit down at the same table and collaborate towards these goals.

"Two major obstacles for investments in Romania are access to finance and the lack of skilled labour force, in terms of both training and retaining skilled employees. The latter can be improved through better, more modern higher education institutions, and a better infrastructure to ensure the transition from universities to what comes afterwards for these young people," Zanin added.
The Head of the EIB office in Bucharest also said that education should be a top priority for Romania, along with infrastructure. "People leave Romania for two main reasons: to provide better education to their kids as well as better public services."
She added that although Romania has been drawing up plenty of ideas that could lead to development, it lacks the ability to translate plans into action.
"I've never seen a country with so many plans, solutions and studies, but there's never any implementation. Local governments in Romania are actually quite strong compared to the central government, which lacks a long-term vision."