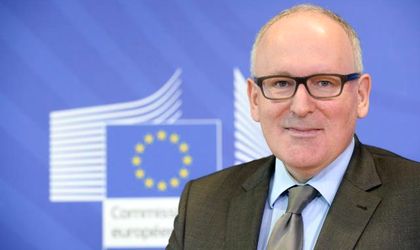 First Vice President of the European Commission Frans Timmermans is making an official visit to Romania on Thursday, 20 April 2017. The agenda of the visit includes meetings with Romanian officials and a meeting with the public on topics relating to the White Paper on the future of Europe, the 60th anniversary of the signing of the Treaty of Rome and of a decade since Romania joined the EU.
The EU official will meet Romanian Senate chairman Calin Popescu-Tariceanu and Chamber of Deputies speaker Liviu Dragnea, and will later hold talks with members of the juridical committees and the committees for EU affairs with the Parliament of Romania.
Later, Timmermans will meet Romanian PM Sorin Grindeanu, Minister of Justice Tudorel Toader and Interior Minister Carmen Dan. The Romanian PM and the EU official will hold a joint press conference at Victoria Palace starting 1 pm.
The agenda of the meeting also includes talks with heads of parliamentary parties as well as partners of the Mechanism for Cooperation and Verification (MCV).
The meeting with the public will take place at the National Museum of Art of Romania, on Calea Victoriei, starting 5.30 pm.