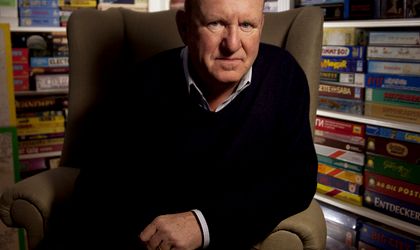 Giants of the international gaming industry, among which Ubisoft, Gameloft, Electronic Arts, Samsung, Tilting Point or Keywords Group, will attend the first Romanian conference dedicated to the gaming industry. The conference called DEV. PLAY will take place in Bucharest on September 26- 27 at the Sheraton Hotel in Bucharest.
International gaming legend Ian Livingstone (in picture) has already confirmed his presence at DEV.PLAY. He was in charge of the European launch of the Dungeon&Dragons game and co-authored the Fighting Fantasy gamebook series, also playing an important part in the launch of well-known franchises such as Lara Croft: Tomb Raider.
Other heavy-weight speakers in the conference include Scott Humphries, former executive producer at Disney Interactive, who contributed to the creation of Star Wars Uprising or Frozen Free Fall, and also Mihai Pohonțu, formerly GM at Electronic Arts Romania, currently vice-president of Samsung Emerging Platforms.
Together with international speakers, there will also be important names of the local industry, who will participate in a series of panels and workshops on topics such as virtual reality, augmented reality, mobile gaming, e-sports as well as the importance of game development as an industry for the economy and related industries.
"Globally, the game development industry is being acknowledged as an undisputed innovating force, economically but also socially. However, even though at global level this force starts to be recognized by the other industries, the economic, social and even educational systems, Romania still needs an impulse. RGDA proposes to offer this impulse through DEV.PLAY, affirming the position of the gaming industry as one of the most important creative industries on the Romanian market," according to Catalin Butnariu, president of RGDA.
The game development industry generated revenues of EUR 140 million in 2015 in Romania. The industry has created 7,000 workplaces in the over 50 gaming studios active in Romania. Romanian studios are constantly expanding to more important projects under their own IP.
Otilia Haraga