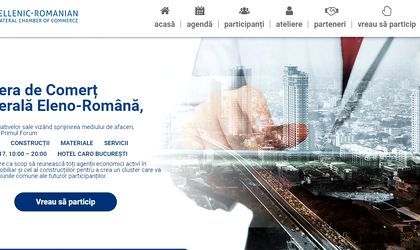 Prominent business leaders are expected to exchange ideas and vital concerns as well as the latest information on the sector, during the first edition of the Hellenic REAL ESTATE – CONSTRUCTIONS – MATERIALS – SERVICES Forum which opens tomorrow.
Organized by the Hellenic-Romanian Bilateral Chamber of Commerce, the one-day event will meet its participants and visitors starting 10 o'clock, on 13.06.2017, at Caro Hotel.
The Forum equally addresses Greek companies active in the Real Estate, Construction, Building Materials & Services sectors as well as Romanian or foreign companies interested in the event, active in related fields.
The importance of this Forum is highlighted by the presence of decision makers in real estate, construction, materials manufacturers & sellers, as well as service providers as it is expected to facilitate meetings, create synergies & collaborations, and in the same time renew old collaborations.
At the Forum, 24 speakers will share their experience in the sector within the three discussion panels, in the presence of the representatives of more than 120 companies and hundreds of visitors.