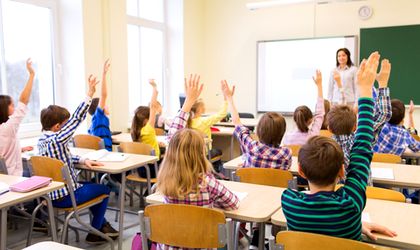 The first day of the school year 2018-2019 welcomes approximately 2.9 million pupils, of which 284.000 are in Bucharest. The number is half a million lower than the one in 2010, when there were almost 3.4 million pupils, according to INS data.
The paradox is that while schools in depopulated counties are having difficulties finding enough pupils, there schools in big cities that can not cope with the number of children enrolled, so they are forced to make up classrooms with over 30 pupils.
According to a communiqué from the Ministry of National Education, the first semester will be between September 10, 2018 and February 1, 2019, and the second semester – from February 11, 2019 to June 14, 2019.
Students' holidays in all educational cycles are scheduled as follows: winter holidays – between 22 December 2018 and 13 January 2019, inter-country holidays – from 2 to 10 February 2019, spring holidays – between 20 April and 5 May 2019 and summer holidays – between 15 June and 15 September 2019.
Additionally, Primary and Preschool classes receive holiday in the week of October 27 – November 4, 2018. For termination classes in high school, the school year ends on 31 May 2019, and for the 8th grade – on 7 June 2019.
"The Different School" national program has a duration of five consecutive working days during the school year and can be run from 1 October 2018 to 31 May 2019 on the basis of a planning that remains at the discretion of schools.
According to MEN, educational establishments and school inspectorates will mark through specific events the 5th of October – International Day of Education and the 5th of June – Teacher's Day, insofar as they are not established as non-working days by the applicable collective labor agreement .
At the same time, in special, well-founded situations, depending on climatic conditions and the specificity of the area and the school, county school inspectorates may approve, at the request of the management of the educational units, changes in the structure of the school year.
"These can be approved only to the extent that full-time school curricula are ensured. Recovering suspended courses as a result of objective emergency situations (weather, epidemics, natural calamities) can not be achieved during school holidays" .