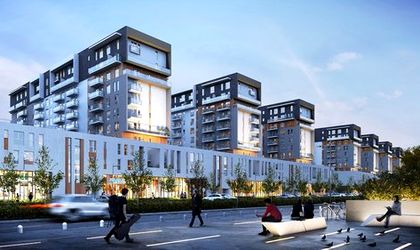 The first construction phase of Belvedere residences, the largest residential project in the Barbu Vacarescu business area, is due to start in October. When completed, the residential complex will offer 1,556 apartments.
The residence complex is located at the center of one of the most dynamic areas of Bucharest, in the northern part of the capital, on Fabrica de Glucoza Street. The first construction phase, which will require an EUR 16.75 million investment, will end at the start of 2018. After its completion, the residence will have 238 double studios, two-bedroom and three-bedroom apartments.
The main sales agent for the project, the largest in the Aviatiei-Barbu Vacarescu area is Coldwell Banker Romania.
Representatives of the project developer hope that the project will contribute to the overall development of the area, given that the area is facing a shortage of housing units. "The area north of the capital has experienced in recent years a rapid development of the office sector, and the residential segment is the next to see a significant growth," said Viorel Mohorea, Project Manager Belvedere Residences Coldwell Banker Romania.
"Belvedere Residences represents a refreshing of the entire area situated at the confluence of the Barbu Vacarescu street and the Aviatiei neighbourhood, not only because it gives a new balance to developers în this area but also because it represents a viable housing alternative for the thousands of employees who work in the hundreds of corporations in the nearby building offices. This will significantly reduce traffic in the area and will create a completely new and modern urban pole," Belvedere Developments representatives stated.
Georgeta Gheorghe