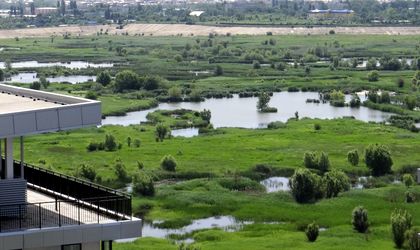 Vacaresti Natural Park  opened its first bike and hiking path, with a length of 8 kilometres. The initiative is part of a collaboration between Vacaresti Natural Park Association, Kaufland Romania, and BikeXpert Racing Team.
The bike path is designed for off-road bikes and is open to both adults and children, as long as they are accompanied by their parents, the association said in a statement.
The path consists of two sectors, namely the "belvedere" sector and "among everglades" sector and stretches along the dam surrounding the park. Access is possible via two entrances: Splaiul Unirii 168 and Strada Savinesti. It takes around 60 minutes to cycle on the path.
"One of the most important functions of the Vacaresti Natural Park is leisure. A "healthy" type of leisure, which includes activities such as sports, walking, nature watching and relaxing in open air. Bikers who will come to the park on bikes will be able to fully enjoy this," Dan Barbulescu, director of the Vacaresti Natural Park Association said.
On 4 November 2017, the park will host Bucharest MTB Race.