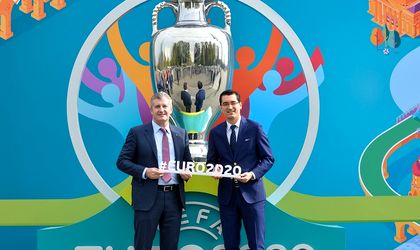 Speaking on Monday at the launch of the Euro 2020 logo, Bucharest Mayor Gabriela Firea outlined a few of the measures to be implemented in the capital by the start of the football competition. During Euro 2020 Romania will host three matches in the group phase and one quarterfinal.
According to the Bucharest mayor, Bucharest will prepare for hosting the competition by rehabilitating the city's streets, modernizing the Old Center and renewing the bus fleet with 500 new buses.
"It is an honor and a joy to be part of the launch of the logo. We will implement all measures and requirements required by UEFA. I want you to have the full functional and administrative guarantee to this respect. We managed to vote, at my initiative, the zonal urban plan for the M6 subway track that connects the airport and Gara de Nord, one of the conditions," Firea said. The mayor added that all documents required to apply for EU funds have been drafted. The investments, the mayor added, will be implemented by the Ministry of Transport, with support from the Bucharest Municipality.
The Otopeni – Gara de Nord subway track will have 12 stops, spread over 14 kilometers, and will shorten the travel time between the two destinations to 25 minutes. The mayor also mentioned that the tender proceedings for the purchase of 500 new buses was ongoing.
Firea also spoke about the necessity of building a multipurpose hall in Bucharest. "We are aware of the need to build a Polyvalent Hall (…) and within a short time we will award the acquisition contract and the executing phase will start. We also took other administrative measures, in reference to the rehabilitation of certain streets and the modernizing of the Old Center, there where, after the matches, most tourists will go," Firea said.
Bucharest will host, alongside 12 cities, the 2020 Euro football championship. Bucharest's National Arena will host four matches.
Georgeta Gheorghe