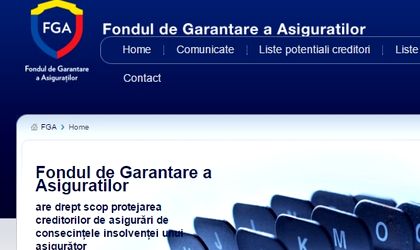 The Policyholders' Guarantee Fund (FGA) has started payments for insurance creditors of the bankrupt company Astra Asigurari, the institution informs. Thus, according to FGA statistics, payments were made for 248 files, amounting to RON 1,256,000.
Payments will continue in the coming period for all cases approved for payment by the Special Committee of FGA.
According to the institution, until  April 25, 2016, the Special Committee subscribed 4,195 cases, of which a total of 24 were rejected. The approved payment amount for the remaining 4,171 cases exceeds RON 16.11 million. Payments will be made depending on the option chosen by each insurance creditor: in a bank account by bank transfer, postal order or cash at any Raiffeisen Bank agency.
FGA will pay creditors who have submitted a complete applications for payment up to RON 450,000.
The move comes after the final decision in the case of Astra Asigurari was made on April 29, ordering the insurer into bankruptcy. The Court of Appeal rejected several appeals in this case and upheld the decision taken in December 2015 by the Bucharest Court.
The Authority for Financial Supervision (ASF) board had asked, at the end of August 2015, for the bankruptcy of Astra Asigurari and decided to withdraw the operating license of the company, which was in special administration at the time.
FGA had completed the transfer of claim files, insurance contracts and database from Astra in October 2015, taking over a total of 57,210 claim files, including the files of redemption, and some 2 million insurance contracts in force.
Thus, in Romania were taken over 1,826,483 policies and 51,566 damage cases,  in Germany – 6,128 policies and 193 claim files, in Slovakia –  22,752 policies and 642 claim files and in Hungary –  191,241 policies and 4,809 damage files.
Astra Asigurari is owned by The Nova Group Investments and Epsilon Estate Provider Romania (99 percent share), companies controlled by businessman Dan Adamescu.
Natalia Martian