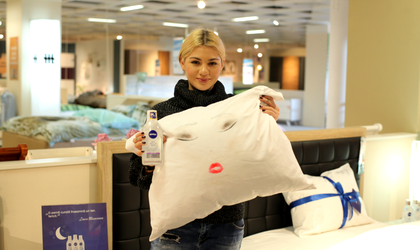 At the start of November, the visitors of the Kika showroom in Bucharest had the surprise of an unconventional exhibition of portraits created from make-up, in the bedroom area. The exhibition was part of the campaign #operatiuneademachierea (operation cleansing), through which Nivea attracts the attention to the importance of taking care of the skin in the right way. The portraits were of one of the most famous beauty bloggers: Alina Ceusan, Maria Dragason (Special Koko) and Laura Muşuroaea.
Alongside the educational message, the campaign announced the launch of the new Nivea water in big format, 400 ml, and the range's diversifying through products targeting all types of complexion.
"This year we've proposed ourselves to send further this educational message, showing the girls, in an unique and memorable way what happens when they don't take their make-up off," said Paula Furir, brand manager at Beiersdorf Romania.
The campaign started with a teaser targeting the journalists and the bloggers that received an anonymous box containing a white pillow, an eye shadow and a lipstick alongside with the message "What happens when you fall asleep without taken off your make-up? If you are courageous help you unravel the mystery".
The female bloggers did experiments using the received kit and posted the pillows with the make-up traces starting discussions on their social media pages. Later on, in the revealing stage, the journalists and the bloggers received a pillowcase with an illustrated portrait that they should use as a reminder of the cleansing process, this being an essential step of taking care and at the same time a simple one, especially when you have the right product.
The culminating stage of the campaign was the unconventional exhibition. The exposing of the products coincided with the weekend of special offers and promotions in the bedrooms section. Over 5,000 visitors were surprised by the Nivea exhibition.
The campaign's message was supported also through digital dedicated content, including articles and videos published on the website and the Nivea Facebook page. Moreover, three ambassadors offered their beauty tips on the Nivea website and their own social media pages, in videos that have generated over 100,000 views.
The teams that contributed to the campaign are:
Beiersdorf Romania: Carmen Pavel – Marketing Director, Paula Furir – Brand Manager, Iulia Munteanu –Brand Manager.
FCB Bucharest: Claudiu Dobrita – Creative Director, Olivia Spanu – Senior Copywriter, Alexandru Tigoianu – Senior Copywriter, Viorel Holovaci – Senior Art Director, Alina Stefan – PR Director, Irina Dumineca – PR Manager, Alexandra Carabusi – Junior PR Executive, Raluca Lupu – Account Director, Ionut Stan – Production Executive.
The digital and media components of the campaign were implemented with the help of Republika and MEC Romania.
Romanita Oprea