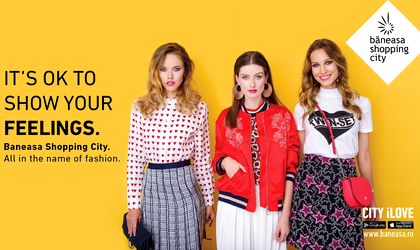 Starting this autumn, Baneasa Shopping City has a new visual identity and a new positioning, signed by FCB Bucharest agency, gathered under the headline "All In the Name of Fashion".
"Starting from the unique mix of brands (supported by the luxury brands and the exclusive offers), the challenge was to translate fashion in the attitude and the personal style that is shaping a style," said Alecsandra Roman, head of strategy at FCB Bucharest.
The new communication strategy is firstly targeting the ones that love fashion, brands, quality entertainment, are socially active and always in the search of memorable experiences.
Along with the new positioning, FCB Bucharest developed two innovative instruments for the Baneasa Shopping City clients: Fashion Emergency Line, a phone line where the clients can be consulted by the mall's stylists for emergencies in fashion, and Fashion Emergency KIT, a kit of "first aid" in fashion that will offer a selection of cloths and accessories offered by the partner shops, at a special price. Both instruments are available during October and announced on the new website and through the mall's social media channels.
Also, FCB Bucharest signs the rebranding campaign creative concept, launched through outdoor executions, online (banners and social media), radio, transit (buses), activations and communication materials of on-location.
"The campaign launches a challenge for the audience. And for us, at the same time. We took a very non critical look over the fashion, we reduced it to a level of feelings and we highlighted the sensations it offers us," added Alex Tigoianu, Senior Copywriter FCB Bucharest.
The agency developed also a new visual identity for the STYLER magazine, printed by Baneasa Shopping City, in motion with the new positioning. The first edition STYLER under the new visual guideline was launched this autumn, under the name "Fall in the name of fashion".
"All the elements of visual communication have passed through a change of look, starting with the new shape for the Baneasa Shopping City logo, a modern font and attractive visuals that transmit emotion through chromatic variety, attitudes and messages," also added Tiberiu Papa, senior art director FCB Bucharest.
The Baneasa Shopping City team that has coordinated the repositioning campaign comprised: Alexandru Bogdan – Marketing Director, Ovidia Popescu – Experiential Marketing & Campaign Coordinator, Daniela Matei – PR & Corporate Manager, Luca Dan Ciceu – Loyalty Manager.
The FCB team involved in the project included: Alecsandra Roman – Head of Strategy, Claudiu Dobrita – Creative Director, Alexandru Tigoianu – Senior Copywriter, Tiberiu Papa – Senior Art Director, Alexandru Rosca – Senior Copywriter, Radu Ghitescu – Senior Art Director, Sorin Fotache – 3D Artist, Mihai Ionescu – DTP, Florin Ciobanu – Head of Digital, Sorina Borcescu – Client Service Director, Andreea Serbu – Account Manager, Bogdana Gusuleac – Senior Account Executive, Iulia Stanescu – Head of Production, Marian Enache – BTL Project Manager.
Romanita Oprea