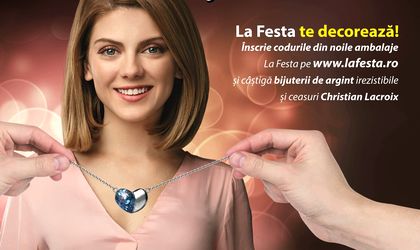 For the women that are not afraid to admit that many times the temptation is stronger than them, FCB Bucharest and La Festa launched the promotional campaign Tentație dincolo de gust (Temptation Beyond Taste).
"There isn't a secret for anyone that we are surrounded at every step by a lot of temptations. La Festa gives the start of a manifest encouraging the women to give up to those temptations that can make them smile every day. More than that, the brand awards them for their courage and their trust in themselves, offering them silver jewels and Christian Lacroix watches.
For the national promotion of this year we've created two TV spots through which we capture exactly these type of moments in which we choose to enjoy every second, giving up to the temptations. We hope that all the women will find themselves in these situations and will answer the La Festa's manifest of courage," said Mihaela Grelus, marketing director Tymbark Maspex.
Developed in the period November 2016 – February 2017, nationally, the campaign "Temptation Beyond Taste" awaits its participants on the website lafesta.ro and has also in-store and TV executions.
The two TV spots were directed by Andrei Amarfoaie, with Tudor Lucaciu – DOP and were filmed in Bucharest, the production company being D-Studio, producer Ducu Ion.
The La Festa team: Mihaela Grelus, Marketing Director, Silvia Rusu, Brand Manager Instant Division, Cristian Ghita, Junior Brand Manager Instant Division, Ovidiu Bobeica, Graphic Designer.
The FCB Bucharest team: Claudiu Dobrita, Creative Director, Sorina Borcescu, Client Service Director, Dragos Raicu, Senior Copywriter, Wanda Hutira, Senior Art Director, Irina Tanase, Junior Copywriter, Alecsandra Roman, Head of Planning, Oana Nedelea, Strategic Planner, Florin Ciobanu, Head of Digital, Serban Chitu, Art Director, Patricia Biea, Copywriter, Laura Blebea, Senior Account Manager, Alina Jijau, Senior PR Manager.
Romanita Oprea