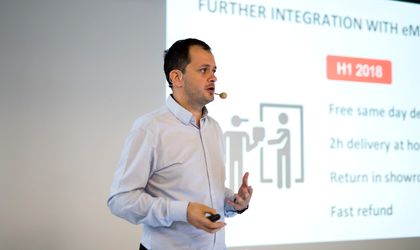 Online fashion retailer Fashion Days posted revenues of RON 148 million in the first 10 months and a 59 percent sales growth year-on-year. The company's upcoming Black Friday, which will debut on 16 November and continue on the 17th, will put up for sale 1,000,000 items, with discounts up to 90 percent.
The Romanian market brings Fashion Days, which operates in Bulgaria and Hungary 63 percent of the total RON 236 million revenues. The total fashion market grew by 7-10 percent year-on-year, the retailer estimates, and the online fashion market increased by 15-20 percent online.
According to Robert Berza, Fashion Days general manager, the growth was driven by traffic received via the Fashion Days mobile application. The downloads data shows 250,000 active apps, with traffic bringing in a conversion rate of 48 percent year-on-year. In order to grow, the company focused on benefits, such as new collections, representing 50 percent of the total stock, and free home delivery for RON 150 per order and free post office delivery of RON 50 orders and free returns.
This edition of Black Friday will debut in the evening of 16 November and will continue on the next day. "At Fashion Days, the evening is a peak moment when clients pale a lot of order, and the mobile app, is currently, our main sale channel. This year 50 percent of orders were placed in the mobile app. That is why, we decided that Black Friday should start a few hours before midnight, and in the mobile app we will give the start earlier," Berza said.
As a novelty, Fashion Days will sell diamond jewellery, bags and luxury accessories. The company estimates that sales will increase by 50 percent compared to the last edition of Black Friday and that traffic will increase 20 times. Moreover, the app revenues will increase by 55 percent.
Since July, the company became a part of the eMAG group, and has free same delivery in showroom.