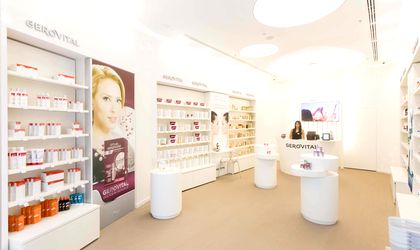 Cluj-based Romanian cosmetics brand Farmec has opened its first ever Gerovital store. The move is part of the company's plans to expand its chain of stores at a national level.
Hosted by the Park Lake shopping mall, the store has a total surface of 52 sq. m and representes an EUR 67,000 investment.
The shop sells all products in the Gerovital and Aslavital ranges and specialized advice. The Farmec chain includes 6 shops in Cluj-Napoca, Arad, Sibiu and Targu Mures. It also includes eight distribution centers in Cluj, Bucharest, Arges, Sibiu, Brasov and Neamt and three working points in Baia Mare, Craiova and Focsani.
"We received numerous requests to open a shop in the capital," Farmec General Director Mircea Turdean said. "Therefore, we decided to open in Bucharest the first Gerovital store in Romania, to bring excellency in cosmetics closer to all Romanians. Bucharest inhabitants will benefit from all brand products, as well as from the entire Aslavital range, the first local cosmetics brand that uses 100% Romanian clay," Turdean said.
Farmec will open a second Gerovital store in Constanta, the brand's first in the coastal city.
Farmec SA Cluj-Napoca is the biggest cosmetics company and exports its products in over 30 countries.
Georgeta Gheorghe