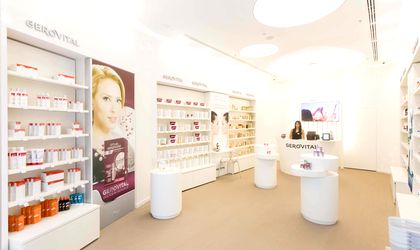 Farmec opened of a new Gerovital store in Constanta, less than a month after its last inauguration in Cluj-Napoca.
This is the second Gerovital space in Constanta, the first being inaugurated in 2016. The new Gerovital store in Constanta opens at the VIVO shopping center! Constanta and has a total area of ​​47 sqm.
"Every new open Gerovital store is a natural continuation of our initiatives to bring to new level the Romanian cosmetics production. We are the first and only Romanian cosmetics manufacturer to create our own network of brand stores, a decision we have taken to be closer to our consumers and to provide them with the newest, most effective and quality products cosmetics and personal care. The opening of the new Constanta shop is a real reason for pride, because it comes in the background of a growing market demand, a sign that in Constanta there is a large community of admirers of the Gerovital and Aslavital brands. Thus, two years after the opening of the first space, we open a new Gerovital store in the city, which we are sure will enjoy the same appreciation from all the citizens of Constanta ", declared Mircea Turdean, general manager Farmec.
Aslavital is another unique brand on the local market, which contains skin care products, made from 100 percent pure clay, from the Padurea Craiului Mountains.
The first Gerovital store in Constanta, inaugurated in 2016, is located in the City Park commercial complex in Constanta.
With the opening of Gerovital's second center in Constanta, the network of brand stores owned by Farmec at national level reaches 24 Farmec and Gerovital centers. By the end of 2018, a few more inaugurations are planned.